Equality Arizona meets with Scottsdale, Arizona mayor Mary Manross.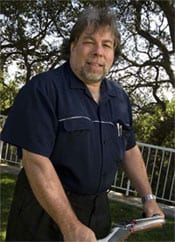 The apple of his eye? Apple co-founder Steve Wozniak reportedly dating Kathy Griffin.

Scientists: HIV may stop brain cells from growing. "For some time we've known that HIV can cause a form of dementia, but this had been attributed to the loss of mature brain cells, killed off by an HIV protein called gp120. Now Stuart Lipton and his colleagues at the Burnham Institute for Medical Research in San Diego, California, have found that gp120 also slows down the division of adult stem cells called neural progenitor cells (aNPCs), thought to be important for memory and learning. When rat aNPCs were exposed to gp120, 15 per cent of them stopped dividing."

Can he make a career reappear? Britney Spears seen overnighting with magician Criss Angel.

The compact disc is 25 years old.

Provincetown Carnival parade goes through the looking glass, as do the straight tourists: "Honey, we're not in Stockbridge anymore."

New Republic: Don't force Dems to state support of gay marriage publicly. "Perhaps once elected, the next president could take a courageous stand in favor of gay marriage via a televised message to the nation, or he could express support for a gay marriage bill were one to arise in a state legislature or criticize state attempts to ban gay marriage or civil unions. As the leader of his party, a Democratic president who voiced support for gay marriage would immediately render such a position more politically viable for state legislators and rank and file party members. Smith says of the candidates, 'These people are managing a political problem. …We just need to change the political dynamic.' He's right. Gay marriage advocates need to convince a substantial majority of the country that gay marriage is a moral good before pressuring presidential candidates to take a position on such a highly charged issue."

Amy Winehouse back in rehab, but will she stay? "Amy Winehouse is putting all her touring commitments for this month on hold until further notice in order to address her health issues. Amy will now not be performing at this weekend's V Festival in Chelmsford and Staffordshire. Her family has requested that the media respect Amy's privacy at this time."

Gay singer/songwriter John Wallowitch is dead at 81: "The composer of more than 2,700 songs (by his own count, the majority unpublished), Mr. Wallowitch was a familiar face on New York television, beginning in 1980 with his cable-access show, 'John's Cabaret,' in which he played piano, sang and joked. With his owlish face, oversize glasses, bow tie and sly Cheshire cat grin, he was the dandified embodiment of a traditional piano man and seemed to know every obscure show tune ever written."

Margaret Cho's film Bam Bam and Celeste gets its San Francisco premiere: "I wrote it because I wanted to do this great fag hag and fag love story, between a girl and her best gay boyfriend. It's the fag hag lament. If you're a fag hag, they always leave with some guy, and you're kind of stuck there, just left behind."

"Fundamentalist fearmongering set" headed to confab in Florida this weekend: "Tampa will host the Family Impact Summit, which will feature Tony Perkins of the Family Research Council, failed Republican presidential candidate Gary Bauer, the American Family Association's Don Wildmon, the Southern Baptist Convention's Richard Land, Katherine Harris (just when we thought we'd seen the last of her!), Ohio vote vacuumer Ken Blackwell, Bob Knight of the Media Research Center, as well as "ex-gay" promoters Nancy Heche (actress Anne's mom), and the "ex-gay-for-pay" President of Exodus International, Alan Chambers."

Male Bondage and Barbra Streisand: they go together.