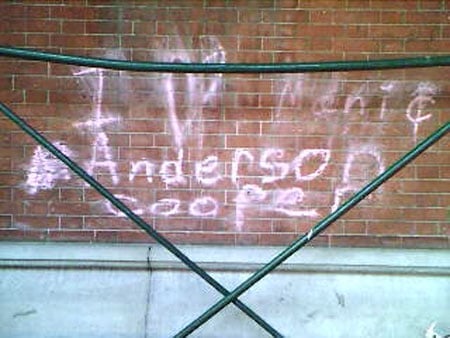 A reader sent in this photo. He writes:
"I was walking my dog this morning and came across this bit of graffiti scrawled on the West 10th Street side of the Jefferson Market Library. I thought is was rather amusing given what it says about 'manic Anderson Cooper.' I also thought it was funny since it's just down the block from the former Ninth Circle Bar where Edward Albee supposedly encountered 'Who's Afraid of Virginia Wolfe' scrawled on a bathroom mirror giving him the inspiration for the title of his play of the same name. Perhaps one day we'll see the Broadway production of 'I Love Manic Anderson Cooper.'"
UPDATE: Apparently it's the graffiti artist that's a bit manic (or named "Manic"). Another reader, Ben H., writes in that the graffiti has been going up all around Chelsea, and sends us these shots he's been taking of it. Not a lot of context but I appreciate the use of color.