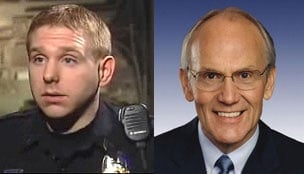 The Smoking Gun has posted a copy of Larry Craig's arrest report, filed by Sgt. Dave Karsnia (above, left).
Here's a bit: "At 1217 hours, I saw Craig swipe his hand under the stall divider for a few seconds. The swipe went in the direction from the front (door side) of the stall back towards the back wall. His palm was facing towards the ceiling as he guided it all the stall divider. I was only able to see the tips of his fingers on my side of the stall divider. Craig swiped his hand in the same motion a third time for a few seconds. I could see that it was Craig's left hand due to the position of his thumb. I could also see Craig had a gold ring on his ring finger as his hand was on my side of the stall divider."
Craig claims his actions were "misconstrued."
Craig's arrest has prompted the Idaho Statesman to release the findings of a probe it conducted after blogger Mike Rogers exposed Craig's secret gay life last October.
"In an interview on May 14, Craig told the Idaho Statesman he'd never engaged in sex with a man or solicited sex with a man. The Craig interview was the culmination of a Statesman investigation that began after a blogger accused Craig of homosexual sex in October. Over five months, the Statesman examined rumors about Craig dating to his college days and his 1982 pre-emptive denial that he had sex with underage congressional pages. The most serious finding by the Statesman was the report by a professional man with close ties to Republican officials. The 40-year-old man reported having oral sex with Craig at Washington's Union Station, probably in 2004. The Statesman also spoke with a man who said Craig made a sexual advance toward him at the University of Idaho in 1967 and a man who said Craig "cruised" him for sex in 1994 at the REI store in Boise. The Statesman also explored dozens of allegations that proved untrue, unclear or unverifiable."
The Idaho Statesman has also demanded Craig give his constituents an explanation.
Recently
Larry Craig Releases Statement, Steps Down from Romney Campaign [tr]
GOP Idaho Senator Larry Craig in Lewd Conduct Men's Room Arrest [tr]