Idaho Senator Larry Craig, whose arrest by a plainclothes police officer investigating lewd conduct complaints was brought to light yesterday, released a statement regarding his actions: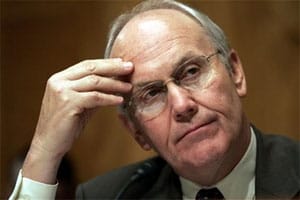 "At the time of the incident, I complained to the police that they were misconstruing my actions. I was not involved in any inappropriate conduct. I should have had the advice of counsel in resolving this matter. In hindsight, I should not have pled guilty. I was trying to handle this matter myself quickly and expeditiously."
Probably just the first in a line of statements that will come from Craig's office. Craig obviously knew the jig was up, or he wouldn't have tried to get out of his toilet tapdance by wielding the presumed power that comes with flashing his Senate business card and asking, "What do you think about that?"
I don't think much can be misconstrued by tapping your foot under the stall at a restroom known for public cruising.
The Minnesota Monitor reports: "Karsnia (the arresting officer) was in the restroom as part of a sting operation to clamp down on lewd behavior. The restroom where Craig was arrested is well known among men who seek sex in public places. Squirt.org is a site that runs a bulletin board for such men. 'If you enter from the terminal, turn left and go past wash basins, urinals to the back where the stalls are. This place is THE most cruisy public place I have been,' wrote one poster. 'Just passed thru here the other day. This place is so hot. This place has a constant flow and variety of hot guys,' wrote another. Even another poster wrote, 'This is the best spot for anonymous action I've ever seen.' Of all the postings in Minnesota, the airport restroom was ranked the top by that website."
Craig's political future is sketchy at best, according to the Associated Press: "The three-term senator, who has represented Idaho in Congress for more than a quarter-century, is up for re-election next year. He hasn't said if he will run for a fourth term in 2008 and was expected to announce his plans this fall. A spokesman, Sidney Smith, was uncertain late Monday if Craig's guilty plea would affect his re-election plans. 'It's too early to talk about anything about that,' Smith said."
As soon as the news of Craig's June arrest broke, videos immediately began surfacing, including this one from 1982, in which an unmarried Craig makes a preemptive denial that he's invoved in a congressional sex and drug scandal.
Craig has resigned from his position as Senate co-chairman of Mitt Romney's presidential campaign. Said Romney's camp: "Senator Craig has stepped down from his role with the campaign. He did not want to be a distraction and we accept his decision."
Romney's campaign was quick to delete the following video of praise from Craig from his YouTube page, but Liveleak quickly resurrected it:
Finally, here's an appearance by Barney Frank on Bill Maher's show in which speculation about Craig's sexuality is brought up. Barney kills it!
You may have missed…
GOP Idaho Senator Larry Craig in Lewd Conduct Men's Room Arrest [tr]