Moving on to the other GOP public restroom scandal, Brevard County Judge Oscar Hotusing refused to dismiss the charges against Allen at a court hearing yesterday, saying the case should go to a jury.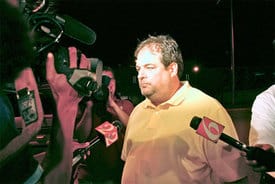 Florida Today reports: "In arguing for dismissal, Eisenmenger said nothing that Allen said or did referred to money or a sex act; it was Kavanaugh who brought it up. Eisenmenger said the law states that Allen needed to make the offer to make the charge stick. 'He's not suggesting anything, he's not offering anything,' he said of Allen. Whitaker said Allen made eye contact with the officers in the park, walked into Kavanaugh's bathroom stall at the park and 'made the first move,' which showed intent. 'Intent is always material,' Whitaker said. Eisenmenger drilled Kavanaugh and Barrett about questioning Allen without reading him his Miranda rights. Kavanaugh said Allen began making statements before questioning, and Barrett said Allen did not mention wanting an attorney at any point during his conversation with him after his arrest. 'Did you mention to your supervisor, 'Excuse me, I haven't given him Miranda?' ' Eisenmenger asked Kavanaugh. 'No,' Kavanaugh responded."
In a minor victory for Allen, the judge ruled inadmissible the controversial comments regarding black men in the park which Allen made immediately following his arrest, because he was not read his Miranda rights. A decision is pending on two other statements made by the lawmaker.
Recently
Florida Rep. Bob Allen Pleads 'Not Guilty' to Gay Sex Charge [tr]
Florida Rep. Bob Allen Apologizes to NAACP [tr]
Lawyer: Resignation Not in the Cards for Florida Rep. Bob Allen [tr]
Rep. Bob Allen Cites Fear of Black Men, Weather in Oral Sex Arrest [tr]
Fla Rep. Bob Allen to Fight Solicitation Charges, Plead Not Guilty [tr]
Florida Rep. Bob Allen to Discuss Men's Room Activities [tr]
GOP Florida State Rep. Allen Charged in Gay Oral Sex Solicitation [tr]