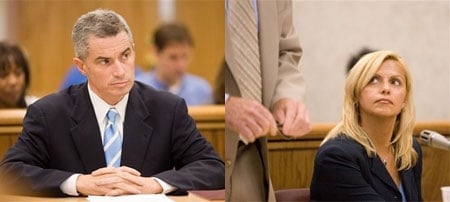 Yes, the bitter divorce case between Jim and Dina Matos McGreevey is still ongoing. Yesterday, judge Karen Cassidy urged the couple to settle with one another because drawing the case out to its conclusion in court would wreak havoc on their finances.
Said Cassidy: "You folks do not have the money to try this case to conclusion. Emotion should not drive this case. Anger should not drive this case." According to the New Jersey Star-Ledger, "To drive home her point about the high cost of a trial, Cassidy noted it costs about $7,500 to depose a single witness, and both sides have said they could call 20 or more witnesses."
But money, more than emotion or anger, may be the issue. Matos McGreevey is reportedly requesting $56,000 a month in alimony payments to "'continue in the lifestyle' to which she had grown accustomed in the governor's mansion" according to the paper.
McGreevey's lawyer objected to the request for alimony, as the couple had been living together for only 3 1/2 years when "under New Jersey law, judges generally award permanent alimony only after a couple has been married 10 years or more."
Alimony fuels latest McGreevey divorce battle [star-ledger]
You may have missed…
Queer Eye Jim McGreevey Slams Ex-Wife's Claims [tr]
McGreevey Whine: Homophobic Allegations Ruined Book Sales [tr]
Report: James McGreevey Taking Steps to be Episcopal Priest [tr]