Jesse Norman Imeson, 22, suspected of strangling a bartender who worked at Windsor, Canada's The Tap after applying for a stripper job there hours earlier, has been caught in Quebec after a cross-country manhunt. During the pursuit, Imeson also took the lives of an elderly couple caught in the fray.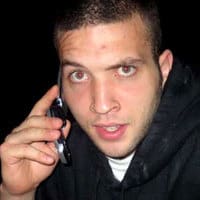 "The manhunt began on July 19, when Windsor bartender Carlos Rivera (below, left) was found strangled to death in Mr. Imeson's apartment. Four days later, elderly couple Bill and Helene Regier were found shot to death in their farmhouse near Mount Carmel, Ont., about 50 kilometres northwest of London…It was also learned yesterday that, hours before allegedly strangling Mr. Rivera, who tended bar at a gay nightclub, Mr. Imeson showed up there looking for a job as a stripper. Eddie An, who runs The Tap, said Mr. Imeson came to the bar on July 17 wanting to dance. 'He was filling out an application form, but he didn't have his ID, so we couldn't finish it,' Mr. An said. 'He said he forgot it at home and would come back the next day. He stayed and had a few drinks, just as a patron.'"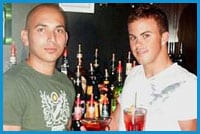 Nick Cesljar, a friend who had "partied" with Mr. Imeson over a number of months and brought him to The Tap to apply for a job, said that Imeson's intentions were unclear: "He was just looking at the money, I guess. He got the idea he can get more money dancing for guys rather than dancing for girls, because guys, being perverts, they'll pay more. That's how it began."
Imeson was caught after breaking into a home in Portage du Fort, about 100 kilometres northwest of Ottawa, where he was surprised by the owner.