Idaho Senator Larry Craig may resign as early as today, CNN is reporting: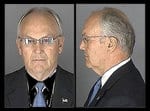 "GOP sources with knowledge of the situation told CNN's Dana Bash that the Republican National Committee was poised to take the extraordinary step of calling on Craig to resign but held off. The RNC put the move on hold, the sources said, because top party leaders have received indications that Craig himself is preparing to step down."
If that should happen, Idaho Governor C.L. "Butch" Otter would name an interim replacement, most likely a Republican, to fill the Senate vacancy.
UPDATE: Larry Craig will announce his plans Saturday, a spokesman says.