Following Judge Robert B. Hanson's order that the Polk County Recorder begin issuing marriage certificates to same-sex couples, gays and lesbians all over the state began preparing paperwork, and this morning, college students Tim McQuillan and Sean Fritz were married by a minister on their front lawn.

Via the Des Moines Register:
"Two male college students were married in the front yard of a Des Moines residence this morning. The couple — Tim McQuillan and Sean Fritz, both Iowa State University students — obtained a marriage license at the Polk County recorder's office and got a judge to sign a waiver allowing them to marry today rather than wait three days, as is required by law. They were married by the Rev. Mark Stringer of First Unitarian Church in Des Moines at 10:32 a.m. Before the ceremony, Stringer said, 'Awesome. It's a long time coming.' After the ceremony, he said, 'They are now official. The marriage license is the official document.' The couple is now headed to the Polk County Administration Building to file the marriage certificate."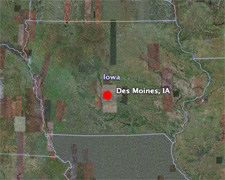 More from Radio Iowa:
"Sean Fritz says he proposed to Tim McQuillan last night when he heard a Polk County judge had ruled Iowa's law forbidding gay marriage was unconstitutional. Fritz went to the store and bought wedding rings last night, then got on the Internet to find the paperwork for a Polk County marriage license. 'There was a lot of double-checking everything on the Internet to make sure that we got all the paperwork filled out correctly the first time,' he says. 'We didn't want to get refused because we messed up a 't' somewhere.' Fritz says he called McQuillan's mother in California to ask permission to marry her son. McQuillan says Fritz then got in touch with him. 'He instant messaged me over the Internet that this was going on,' McQuillan says. 'When he picked me up around nine o'clock he proposed to me on the spot. Besides the obvious shock, I still haven't recovered. Maybe it'll set in later this week.'"
Congratulations to Tim, Sean, and all the other same-sex couples celebrating marriage over this Labor Day weekend.
UPDATE: Marriages halt. Judge stays ruling at county's request.