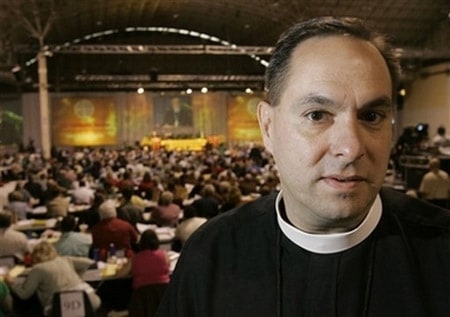 On the last day of its annual meeting at Navy Pier in Chicago, the leaders of the Evangelical Lutheran Church in America passed a resolution from Chicago's Bishop Paul Landahl urging bishops to refrain from disciplining gay ministers who are in committed same-sex relationships.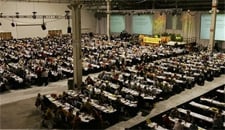 The Chicago Tribune reports: "After emotional testimony on the biblical interpretation of homosexuality, church leaders passed Landahl's resolution by a vote of 538-431. Saturday's resolution surprised some in the church because it came a day after leaders defeated a measure that would have ended the ban on non-celibate gay clergy…The renewed debate on homosexual clergy in the ELCA stems from the case of Rev. Bradley Schmeling (above), an Atlanta pastor who was removed from the clergy roster in July after he told his bishop he was in a relationship with a man. The new measure prevents his bishop from seeking further disciplinary action, but does not re-institute Schmeling's status."
Said Schmeling: "I'm grateful the resolution passed, because now no one else will have to go through what I went through. What I hope we've done is provide some relief for others in the church who now may not face discipline. And they can live with a little less fear and a little more confidence that the church isn't out to get them. Even though we've got a long way to go to get an overall change in the policy, maybe we can take a deep breath and we don't have to be so afraid anymore."
Conservative church leaders, however, said the historic vote would open the door to "chaos" as it appears to contradict the policy forbidding the ordination of gay ministers.
Lutherans to allow pastors in gay relationships [reuters]
Lutherans ask bishops to keep gay clergy in ministry [chicago tribune]