On Friday I posted about High Point church and the decision by Reverend Gary Simons to deny a promised funeral to the brother of one of its members, a Navy veteran, once church officials discovered that the deceased was gay and that his sexuality would be mentioned at the service.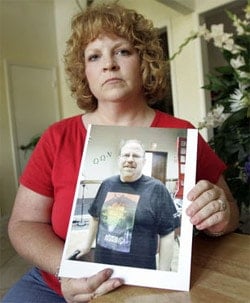 Simons defended his decision to renege on the offer to his congregation on Sunday, and reportedly received a hearty round of applause. Said Simons: "This decision was not based on hate, or discrimination, but upon principle and policy. We cannot glorify homosexuality as a lifestyle."
The church had been praying for the deceased, Cecil Sinclair, for six years, and had sent a minister to the family's home shortly after he died.
The Dallas Morning News reports: "The family says that it should have been obvious to church staff immediately that Mr. Sinclair was gay. They say that Paul Wagner, 38, was introduced to a High Point audio-visual minister, who came to the hospital on Monday night, as the deceased's partner. The fact that the family wanted the Turtle Creek Chorale, an openly gay and internationally famous group that Mr. Sinclair sang with for years, to perform should also have made it obvious, they say."
Simons seemed almost to relish the negative publicity his church has been getting since news broke on Friday: "With all the negative e-mail we are receiving right now, it seems that the homosexual community, God bless them all, are very organized. Before, when you type in 'Gary Simons' and 'High Point Church' in a Google search, you know, you could find us. But now, you really could find us."
Sinclair's service was held at a nearby funeral home over the weekend. Said Tim Seelig, the leader of the openly gay Turtle Creek Chorale, at the end of Sinclair's memorial: "We were supposed to be a couple of blocks away. We are here because the church deemed Cecil unworthy."
Pictured: Kathleen Wright, with a photo of her brother Cecil Sinclair.
Arlington church defends decision not to host gay man's funeral [dallas morning news]
Background
Church Denies Navy Vet a Funeral After Discovering He Was Gay [tr]