A new track from Madonna's forthcoming album has leaked. "The Beat Goes On" is a Pharrell/Madge collaboration.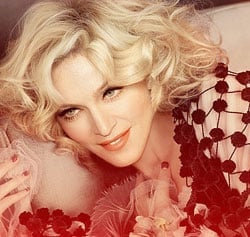 Idolator's review: "'Beat' is sort of like a mini-tour of the dance-music genres that Madonna hasn't yet tried to assimilate–DFA handclaps and cowbells, Bee Gees-ish falsettos on the chorus, Pharrell background interjections sprinkled throughout the track. The singsong "always a bridesmaid, never a bride" pre-chorus is a lot catchier than its 'Stayin' Alive'-like follow-up, and it will probably be stuck in my head for the rest of the day now. Overall, in the grand scheme of Madonna songs, 'Beat' is definitely better than 'Hey You,' but I'm not quite sure if it's all that much of an achievement over 'American Life.'"
Not quite sure what to make of this – it's certainly spare, but who knows if it's finished. The simplicity of Madonna's tracks is often deceiving and the hook can creep up on you. That may be the case here.
You can get the track (at least for now) over at Kevipod music.