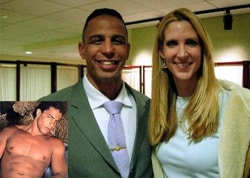 Via Joe.My.God comes news that gay porn actor/marine/Coulter fan has landed at the right-wing rag, WingNutDaily.
Says Sanchez: "I'm honored WorldNetDaily.com has asked me to be a part of such a respectable organization. WorldNetDaily has some of the most talented people I've had the privilege of working with in the media since arriving in Iraq earlier this year."
Sanchez is currently embedded in Iraq.