New York's "Aristocrat of the People" Brooke Astor dies at 105: "…it was a changing social order that Brooke Astor oversaw. Hers was a society defined more by balance sheets than bloodline. It opened its doors to entrepreneurs and Wall Street movers and shakers who had bought entree with so many millions that in the 1980s Mrs. Astor declared herself 'nouveau pauvre.' Although aristocratic in upbringing, style and social milieu, she never sought to be the arbiter of society that the Astor name might have entitled her to be. She never wanted to rule over a world that she was among the first to recognize was no more."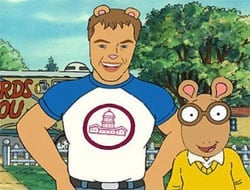 Matt Damon in with the bear crowd: "Matt Damon got turned into an animated bear for a September 3rd episode of the PBS cartoon, Arthur. Matt is on to promote a feature on the site where kids can submit videos of themselves to be aired on the show."

Jake Gyllenhaal and friend enter 5K race in Massachusetts.

It keeps bending, and bending…: Scientists create flexible, biodegradable battery.

Little Britain creators become gay icons in Poland: "Apparently gays there are packing their manbags for Britain, inspired by their new hero from Little Britain. The comedy was finally screened for the first time in Poland in April on state broadcaster TVP. It is the campest show to make it on to the nation's TV and has now become an "inspiration" to homosexuals there. Characters including Matt Lucas's Dafydd Thomas and, in particular, David's Prime Minister-adoring Sebastian Love, have been a hit with Polish gays. Mirka Makuchowska, of the Polish Campaign Against Homophobia, said David had become an 'important' figure to Polish homosexuals. She said: 'Little Britain has made a huge impact here. Especially David Walliams when he is playing Sebastian. It has even made many think of moving to Britain.'"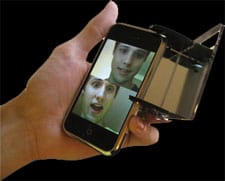 Developers win award for devising videoconference system for the iPhone.

Six-year-old boy drowns after bullies strip him and force him into lake.

Rapper Beanie Sigel on Kanye West's reported feud with Sigel for suggesting he's gay: "I don't really dwell on that sh–, man. He called me for songs, so I guess [there are no problems]. I been trying to get beats from that n—a since before I went to jail."

Concerned Roman Catholics of America pickets Knights of Columbus convention in Nashville, demanding that the organization expel 16 "pro-Sodomite" Massachusetts lawmakers: "One of the pols on the group's hit list, state Rep. Robert DeLeo (D-Winthrop), said: 'I certainly respect the right of those who disagree with my vote on same-sex marriage to do so and to advocate for their point of view. It is my hope that they would also respect my right and responsibility as an elected official to, after listening to all the facts and arguments, decide what I think is the best course of action on issues before the Legislature.' Another on the list, Rep. Garrett Bradley (D-Hingham), said of the Knights: 'We don't agree on every issue, and this one of them. I'm going to vote the way I think is right, regardless of what this group or another group might want me to do.' The CRCOA Web site has posted the names of those it describes as "pro-Sodomite, pro-abortion Knights of Columbus" on its site, including several Bay State pols."