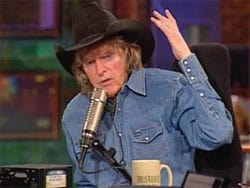 Radio shock jock Don Imus, who lost his CBS radio show in mid-April following outrage over his racist, sexist, and classist comments regarding the Rutgers women's basketball team, has settled with CBS: "The terms of the settlement will not be disclosed, according to the CBS statement. The settlement pre-empts the dismissed DJ's threatened $120 million breach-of-contract lawsuit."
Drudge is reporting that the settlement is to the tune of $20 million.
And Imus is reportedly in talks to resume his career at WABC radio.
You may have missed…
Turned Off: Don Imus Loses CBS Radio Show [tr]
MSNBC Cans Imus as Debate on Hate Speech Rages [tr]