Gay man shut out of the estate of his deceased lover of 14 years: "B.C. Supreme Court Justice Marion Allan has ruled 42-year-old Reza Chowdhury has no claim to an East Vancouver home he says he shared with Peter Argenti. The court agrees Mr. Argenti had a 14-year relationship with Mr. Chowdhury but kept it a deep secret, fearing his conservative, Catholic family and friends would never understand if he admitted his homosexuality. Mr. Chowdhury was a refugee from Bangladesh. He says he lived with Mr. Argenti in the home and has a claim to it as a common-law spouse. But the court says there is no indication of a connection between Mr. Chowdhury and anything to do with the house, even though Mr. Chowdhury lived there while managing and cooking at a restaurant owned by Mr. Argenti."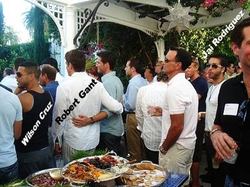 A Socialite's Life steps inside GLAAD's annual summer cocktail fundraiser and finds "Robert Gant ("Queer As Folk"), Wilson Cruz ("Noah's Ark"), Tony Tripoli ("Fashion House"), Jai Rodriquez ("Queer Eye"), Marc Cherry (creator of "Desperate Housewives"), Paul McCullough ("The Next Food Network Star"), Chad Allen ("Save Me"), Honey Labrador ("Queer Eye for the Straight Girl"), Ian Roberts (former pro-rugby player), Reichen Lehmkuhl ("Amazing Race") and Christine Devine (Fox 11 News)."

Stephen Colbert and Richard Branson in on-air water fight: "Branson was apparently upset that he wasn't able to give a direct plug to the new Virgin service and doused Colbert with his guest mug of water. Stephen was drenched. He took a beat, then signalled for his own ammunition for about twenty seconds until Alison (Silverman) ran and gave him her bottle of water, and Stephen retaliated. The two of them sat for a very uncomfortable second looking like two wet cats. Then Stephen thanked him for coming. I really don't think it was planned, since Stephen had another bit to introduce and a full interview left to do. They had to get him a new jacket and even broke out a blowdryer."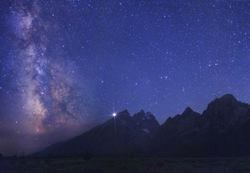 The Grand Tetons, Jupiter, and the Milky Way have a three-way.

Passengers aboard a Continental flight threaten to sue after trip from hell: "Because of bad weather, Continental's July 19 Flight 1669 from Caracas, Venezuela, to Newark, N.J., was diverted to Baltimore-Washington International Airport, where it landed at 1:50 p.m. Passengers said after sitting on the grounded plane for hours, they began protesting by banging on overhead compartments, clapping their hands and even signing a petition asking to be let off…At 6:30 p.m., homeland security officers finally allowed passengers to exit the plane, but their troubles didn't end. The officers led them into a room, where they were held for two additional hours. 'We were removed from the plane and were forced to walk single file against the wall, flanked by armed officers one of whom had an attack dog.'"

John Mayer shops till he drops.

Madonna shoots up in front of passengers on transatlantic flight: "Just before landing she brought out the phials of vitamins and injected herself. Seven hours is a long time to go without eating. She was also very quiet and only spoke to the air staff to ask for water."