Rupert Murdoch's News Corp. wins bid for Dow Jones, publisher of The Wall Street Journal: "Rupert Murdoch's News Corp. sealed a $5 billion agreement to purchase the publisher of The Wall Street Journal after three months of drama in the controlling family and public debate about journalistic values. One of the oldest and best-known franchises in the newspaper industry, beset in recent years by business pressures, now enters a new era as part of a world-wide media conglomerate. The 76-year-old Mr. Murdoch, whose properties range from the Fox television network to the Times of London, negotiated hard to win the paper he long coveted. He has promised to invest more in Dow Jones journalism."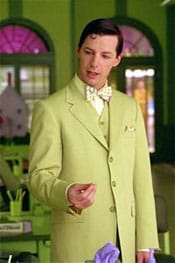 Sean Hayes to play Bill Gates in "Nerds" musical? "From the writers of the Off-Broadway smash hit The Bomb-itty of Errors and the hot animated TV series 'Robot Chicken' comes a funny and irreverent musical take on the parallel stories of computer pioneers Bill Gates and Steve Jobs as they blaze a path from garage inventors to warring titans of the computer revolution. With its rollicking tunes and brilliantly off-beat humor, Nerds://A Musical Software Satire celebrates the inner nerd within us all!"

Whoopi Goldberg confirmed as new co-host on The View.

Cheney still unwilling to answer which branch of the government he works for.

Some of New York City's cabs of the future are here today…

Gay Pride festival launched by Deputy First Minister Martin McGuinness in Derry, Northern Ireland: "No-one should be discriminated against on the basis of their sexual orientation in the same way that it should not happen because of their age, race or indeed any other characteristic of their being."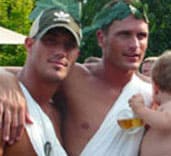 Hamptons toga bash brings out Reichen, Ryan, and baby.

Hillary Clinton position on federal funding for needle exchange programs is illustrative of how she, as a candidate, is "informed and bound by her husband's administration."

Man who murdered wife with sledgehammer in 1986 after she threatened to tell his mother he was gay and received 16 years to life in prison for second-degree murder, may be released from prison next month.

Gawker: Why do straight men think they're gay men?

Rocks thrown through window of Colorado Springs Gay and Lesbian Fund building: It was a targeted crime. It was a hateful crime."

Montreal gay couple receives $10,000 after harassment by youths in their neighborhood: "Theo Wouters and Roger Thibault said four youths targeted them because of their sexual orientation. The Quebec Human Rights and Youth Rights Commission says the parents of one of the youths must pay the two men $10,000. Three other adolescents who were mentioned in the case now live in Calgary and are not targeted by the ruling of the human rights group. Wouters and Thibault have lived together for more than 30 years and got married a few years ago."