Leona Helmsley, the real estate developer and hotelier who was dubbed the "queen of mean", died today of heart failure at her summer home in Greenwich, Connecticut. She was 87.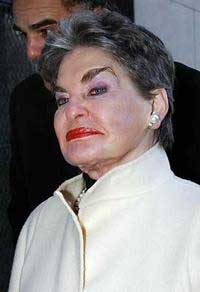 Via NYT City Room: "In 1968, Mrs. Helmsley, already a millionaire and a successful condominium broker, met the real estate magnate Harry B. Helmsley. They married in 1972. Together, they built a real-estate empire that included landmark buildings like 230 Park Avenue and the Empire State Building, the Tudor City apartment complex on the East Side of Manhattan, and Helmsley-Spear, their management and leasing business. The couple developed properties that included the Park Lane Hotel, the New York Helmsley Hotel and the Helmsley Palace Hotel, and hotels in Florida and other states."
In 2001, Helmsley made headlines after raising a stink in the lobby of her Park Lane hotel after she saw a group of gay tourists there. For the hotel's gay general manager, Charles Bell, Helmsley's outburst was the last straw, according to a report in The Advocate: "She said in a loud voice, 'What are all of these gay men doing in my hotel? It's disgusting. I want it stopped.'"
It was one in a long string of disgusting slurs and outbursts from Bell's boss. Bell filed a multi-million dollar lawsuit against Helmsley after being fired from his job, citing "wrongful and discriminatory termination and intentional infliction of emotional distress."
A jury awarded Bell $11.2 million in damages. This amount was later reduced by a judge to $554,000.