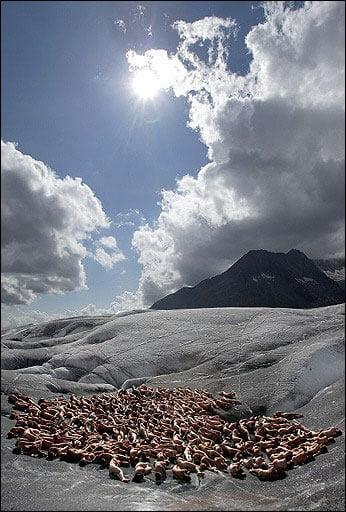 Six-hundred people took part in a unique weekend activity on Saturday, posing naked for photographer Spencer Tunick on a Swiss glacier in a Greenpeace-sponsored shoot intended to draw attention to the issue of global warming.
The Guardian reports: "For the Aletsch shoot, Greenpeace advertised on its website for suitable volunteers for the project who could allow all day for the 'unique experience'. Participants were assured they would not 'be naked for very long'. Tunick's 'living sculptures' have a dual artistic value for his fans, both in the act of persuading so many ordinary people to disrobe and in making nudity appear mundane, but for yesterday's work he said it was human vulnerability he wanted to emphasise. 'I want my images to go more than skin-deep. I want the viewers to feel the vulnerability of their existence and how it relates closely to the sensitivity of the world's glaciers,' he said."
The Swiss glaciers are projected to disappear completely by the year 2080.
You may have missed…
18,000 Bare All for Spencer Tunick in Mexico City [tr]
World AIDS Day Premiere: Positively Naked [tr]
Tunick Watch: Naked on the Coast of Spain [tr]
Spencer Tunick Celebrates Skin in Caracas [tr]
A River of Flesh [tr]