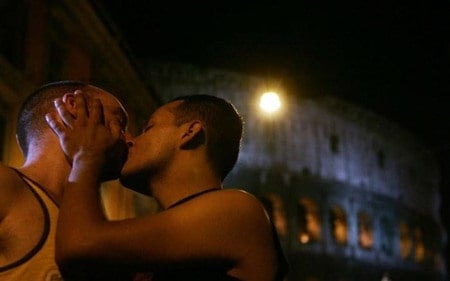 The mood was celebratory around Rome's Colisseum as hundreds turned out for a kiss-in that was prefaced by the inauguration of a new street designed to create a focal point for Rome's LGBT citylife.
The Associated Foreign Press reports: "Italy's leading gay rights group Arcigay 'officially' dubbed Via San Giovani in Laterno Rome's new 'Gay Street,' saying it wanted to give the Eternal City a 'point of reference for the gay and lesbian community.' Several establishments frequented by homosexuals have opened in the street since 2001, but Rome does not have a gay district similar to those in other cities."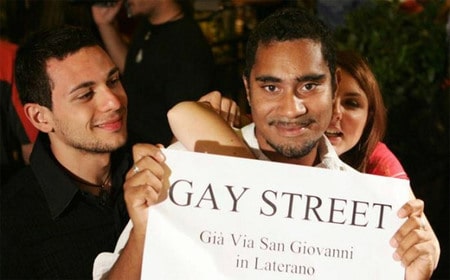 The kiss-in that followed the ribbon-cutting was a protest against the weekend arrest of a gay couple for kissing outside the recognizable Roman ruin. Police say the couple were doing more than kissing and charged the couple with committing a lewd act, though they have thus far declined to go into specifics about the couple's actions.
According to the AFP, "Thursday's rally had the support of several members of Prime Minister Romano Prodi's centre-left government, including Equal Opportunity Minister Barbara Pollastrini, Youth and Sports Minister Giovanna Melandri and Social Solidarity Minister Paolo Ferrero."
Said Ferrero, in a message to Arcigay: "There is still a long road ahead in terms of democracy, freedom and respect."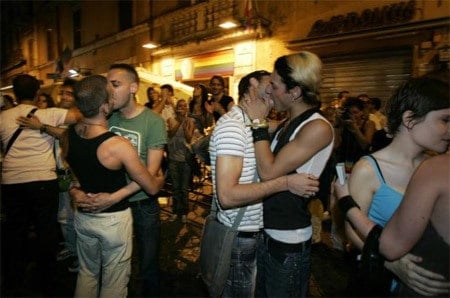 You may have missed…
Two Men Arrested for Kiss Outside Rome's Colisseum [tr]
Gladiators Return to Ancient Rome in Gay Show of Force [tr]
Rome Hosts AquaRomae, 1st International GLBT Swim Tournament [tr]
(image source)