George W. Bush said good-bye to the man some called "Bush's Brain" at a press conference on the White House lawn yesterday. Said Bush: "I'll be on the road behind you here in a little bit."
Shortly thereafter, Karl Rove and his family joined George and Laura Bush on a helicopter ride to the Crawford ranch after bidding farewell to reporters.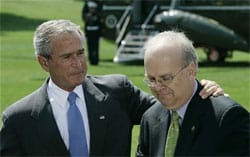 Rove casts himself as Herman Melville's white whale in his good-bye speech: "I'm realistic enough to understand that the subpoenas are going to keep flying my way. I'm Moby Dick and we've got three or four members of Congress who are trying to cast themselves in the part of Captain Ahab — so they're going to keep coming."
Just Karl Rove spouting off? Hardly.
A quick Wikipedian assessment of Melville's plot elements reveals Rove's statement to fit perfectly with the Bush administration's inclination towards moral dualism: "The white whale itself, for example, has been read as symbolically representative of good and evil, as has Ahab. The white whale has also been seen as a metaphor for the elements of life that are out of our control, or God."
Illustration courtesy Pretty on the Outside.
You may have missed…
Chief White House Aide Karl Rove Announces Resignation [tr]