Four firefighters who complained to the state's Department of Fair Employment and Housing because they were teased by colleagues and taunted with sexual innuendoes during a gay pride parade they were instructed to ride in say they have received "threats" since going public with their complaint.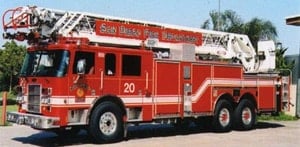 NBC San Diego reports: "Capt. John Ghiotto spoke with NBC 7/39 Monday. He said he's received threatening phone calls in light of his and the three other firefighters' complaints. 'This is not what I wanted. This is not where I wanted this to go,' Ghiotto said. 'But… we had no other choice and hopefully this will make us a stronger department.' Ghiotto has been a firefighter for 28 years, 19 of them in San Diego. He said he and another firefighter have been transferred to another station. Their complaint has led to a new policy within the department, which states they will rely solely on volunteers for future parade participation."
The threats against the firefighters, who seek the right to file a sexual harassment lawsuit against the San Diego Fire-Rescue Department, were not specified.
Firefighters: Threats Made Over Gay Parade Complaints [nbc san diego]
Recent firefighter news…
San Diego Firefighters Sue Dept for Gay Pride Sexual Harassment [tr]
NYC Firefighter Calendar Canned After Michael Biserta is Exposed [tr]
NYC Firefighter Cover Model Michael Biserta: Insert Hose Joke Here [tr]
FDNY's LGBT Group Says Chuck & Larry's Journey Feels Familiar [tr]