Two weeks ago I posted about a group of 18 Nigerian men who faced death after being arrested in a hotel for alleged sodomy after they had traveled to the northeaster Bauchi state to attend a "gay wedding" there.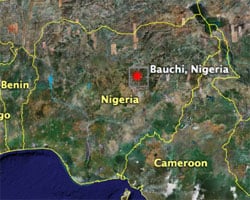 They had their day at a Bauchi State Sharia court yesterday, but not before an angry mob "surged forward" demanding that the police release them so the mob could inflict "instant justice". They were throwing stones at the policemen, who then dispersed the crowd with tear gas. In response, the mob reportedly smashed several cars.
The good news is that it looks unlikely that the 18 men will face death as the charges were "amended to idleness and possession of female dressings". The bad news is that that charge apparently carries with it a punishment of "a year jail term and 20 strokes of the cane each" if found guilty.
The judge also greed to release the defendants on bail.
Previously
18 Gay Nigerian Men Face Possible Death by Stoning [tr]