Google is asking people who are featured news items on Google News to comment on the articles. "Our long-term vision is that any participant will be able to send in
their comments, and we'll show them next to the articles about the
story. Comments will be published in full, without any edits, but
marked as "comments" so readers know it's the individual's perspective,
rather than part of a journalist's report."


Bluetooth will release an upgrade to its wireless technology this fall that will make it easier to use and more secure. As a result, expect to see Bluetooth-enabled devices everywhere, from sending digital pictures straight to computers and printers wirelessly, to making purchases with a "swipe" of your cell phone.


Since announcing that they will not renew their contract with iTunes, Universal, one of the "big 4" record labels, announced this week that they will start selling DRM-free music online. Cory Doctorow, an advocate for the removal of all DRM "crippleware," says that this move is inevitable since Apple only allows the music they sell to be played on an iPod.
"For record companies, there are only two choices: sell Apple-crippled music and increase Apple's control over the online music business, or sell uncrippled music. Uncrippled music — MP3s and other open files — are superior to the crippled versions. You can play them on more devices and do more with them. No customer seeks out music because it's crippled — DRM doesn't sell music. None of the iTunes customers bought music because they wanted music that was locked to the iPod and wouldn't play on competing devices. People who don't want to pay for music just download it from P2P, where all the music is already available for free, without DRM. If you want to convince people to buy your music, you can't start by making it worse than the free stuff. "


The new Virgin America airline is all about the tech.

Apple released a few expected new products this week, and made some updates to its suite of office and home entertainment programs. iMovie gets a total overhaul, making it a very impressive movie making program for the non-pro set. Also added was Numbers, a spreadsheet application that bests Microsoft's Excel on the surface — it looks slick and runs smoothly.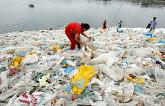 Plastic bags do not biodegrade. Instead, they break down into smaller and smaller parts that pollute the world's water ecosystems and are nearly impossible to clean up. A Salon article paints a frightening picture: "There are 46,000 pieces of plastic litter floating in every square mile
of ocean, according to the United Nations Environment Programme. 'It's an endless stream of incessant plastic particles everywhere you
look. Fifty or 60 years ago, there was no plastic out there.'"

This week YearlyKos, the second annual convention of liberal political bloggers founded by DailyKos, brought together some of the top Democratic candidates for a heated debate. The convention brings together influential political bloggers to reveal the "people behind the pixels" and encourage grass roots journalism.
TowleTech is written by TR correspondent Daniel Williford.