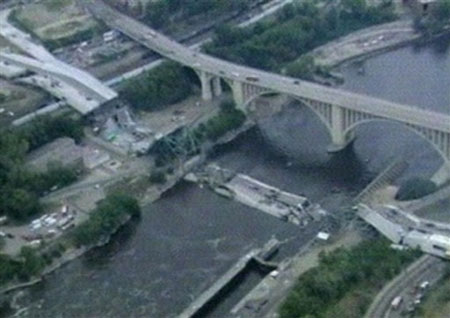 Our thoughts and prayers go out to those affected by yesterday's I-35 bridge collapse in Minneapolis.
The death toll currently stands at nine and rising. Looking at the horrific images, it's easy to think how it could have been much worse.
The fact that there are even survival stories to tell is a small miracle: " Jamie Winegar said she suddenly started hearing 'boom, boom, boom and we were just dropping, dropping, dropping, dropping.' She said her nephew yelled, "It's an earthquake!' and then we realized the bridge was collapsing.' Behind the wheel, Dennis Winegar fought to keep their rented Chrysler 300M under control. 'I slammed on my brakes and saw something in front of me disappear and then my car pointed straight down and we fell.' He estimated they dropped about 50 feet.
Jamie Winegar said everyone around them got out of their cars and tried to help others off the bridge. 'There were a bunch of people right around there helping everyone. Angels is what I call them.'"
A disaster sure to change Minneapolis for a long time. A few blogs following the still-unfolding situation:
Minnesota Monitor, Buzz.MN, Minneapolis Metroblogs, via Eleventh-Avenue-South.
Images [wcco minneapolis]
The bridge was said to be under repair. Given our reactionary society, the disaster will no doubt make people take a closer look at America's aging infrastructure, despite what the cause of the I-35 collapse is found to be.
Seven dead in I-35W bridge collapse in Minneapolis [minnesota public radio]