Hillary Clinton and Barack Obama will be holding dueling fundraisers on August 9, the same night as the Human Rights Campaign and LOGO's Presidential Forum on LGBT Issues, aka the "Gay Debate".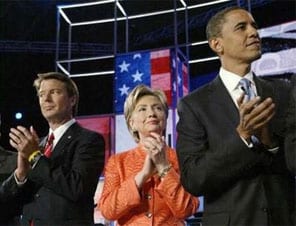 Obama's fundraiser will take place from 7:30 to 9:30 at Area on La Cienega, while Clinton has chosen gay hotspot The Abbey. The Abbey's event begins at 6 and the debate will be broadcast. Clinton will join the fundraiser after the debate finishes.
One major difference in the two events is the price. Obama's is $250 a ticket while Clinton's is $50 for general admission and $1,000 for a VIP reception. How much face time those shelling out $50 will get is unclear.
And what of the other frontrunner, John Edwards?
Edwards' website says he's holding a $15 "small change for big change" fundraiser at Republic (just doors down from Area) on La Cienega at 5:45 pm. However, that's 15 minutes before the debate is supposed to begin. No word on whether there's a tie-in with the debate there or not.
More on how the candidates are PRing the event, and encouraging supporters to throw house parties, from Good as You.
Barack to Party with Paris and Lindsay? [tmz]
Hillary Sashays into WeHo [tmz]