Last night, Anderson Cooper talked to Jay Leno about the YouTube debates, the "spin room", Gloria Vanderbilt, Flock of Seagulls haircuts, hot liquids, riding motorcycles, and his silver mane:
"I started [going gray] young. It's funny. It's like premature ejaculation. You know it can happen, but when it actually happens to you it's kind of a shock."
Anderson will also be doing a stint as a reporter for GNN: Grouch News Network on the 38th season of Sesame Street, which begins on August 13. Cooper broadcasts from a garbage can and is seen below, interviewing Dan Rather-Not and Walter Cranky about the letter "G".
Which stands for…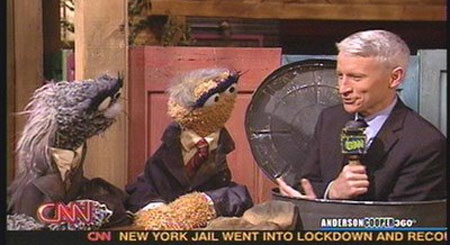 Recently
Smell Like a News Anchor: Anderson Cooper to Get Fragrance? [tr]