Pioneering talk how host and game show innovator Merv Griffin died over the weekend at Cedars-Sinai Medical Center in Los Angeles. The cause was prostate cancer. First treated for the disease in 1996, Griffin was recently hospitalized again, and doctors said the cancer had spread to other organs.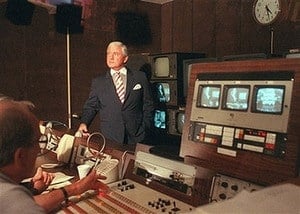 The Merv Griffin Show was among the first to touch on "edgy" topics and became a blueprint for similar shows. It also served as the anchor for a highly successful entertainment empire which grew to include game shows Jeopardy and Wheel of Fortune before expanding into hotels and casino.
The New York Times is one of the few papers to touch on his rumored homosexuality: "But he was also dogged by sex scandals and insinuations that he was gay. In 1991, he was sued by Denny Terrio, the host of 'Dance Fever,' another show Mr. Griffin created, alleging sexual harassment. The same year, Brent Plott, a longtime employee who worked as a bodyguard, horse trainer and driver, filed a $200 million palimony lawsuit."
Said Plott at the time: "We lived together, shared the same bed, same house. He told me he loved me."
The Times notes: "Mr. Griffin characterized both lawsuits as extortion; ultimately, both suits were dismissed. Mr. Griffin consistently evaded answering questions about his sexuality. In a 2005 interview with The New York Times, he said: 'I tell everybody that I'm a quartre-sexual. I will do anything with anybody for a quarter.'"
Michelangelo Signorile has much more at The Gist about Griffin's closet, Griffin's friendship with the Reagans and his complicity in their silence during the first years of the AIDS crisis, the sexual harassment lawsuits, launched against him, and the threats he felt from those around him who were openly gay.
Signorile notes: "Merv Griffin accomplished a lot and is, in his death, being held up as a example of a stellar Hollywood businessman. But he should also be held up as man who, like Malcolm Forbes before him, was hugely influential and powerful and yet still allowed the closet and homophobia to manipulate his life, and to cause him to do harm to his own people. That should not be forgotten."