Following in the footsteps of his accomplice Christopher Gaines, who in May pleaded guilty to the murder of Scotty Joe Weaver in Alabama in 2004 to avoid the death penalty, Robert Holly Lofton Porter also entered a guilt plea on Wednesday and received two consecutive life sentences for the grisly murder.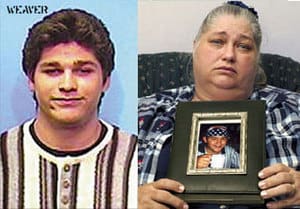 Porter was scheduled to go to trial in one week for capital murder. The plea deal means he is spared the death penalty and can eventually be paroled, according to AL.com.
The Mobile Press-Register reports: "Liz Campbell, who is representing Porter, said he 'gave confessions that he participated in the murder, so it's kind of hard for him to deny that.' She said her client would be eligible for parole in 15 years even though his sentences are back to back. Prosecutors said a plea agreement is possible with a third defendant, Nichole Bryars Kelsay, 21, who is awaiting trial…Prosecutors have alleged that Gaines and Kelsay called upon Porter to help them kill Weaver. Newcomb called Porter 'someone who is less culpable in that he didn't come up with the plan.' Gaines and Kelsay, who had been dating at the time, shared an apartment with Weaver in the Pine Grove community."
The defendant Porter and two others, Christopher Gaines and Nichole Bryars Kelsay, robbed Weaver (pictured here, along with his mother) of between $65 and $80 before beating, strangling, and stabbing him to death and then setting his body on fire. His charred, decomposed body was discovered by the side of a rural road. Prosecutors say the murder was committed, in part, because Weaver was gay.
The paper continues, "…Porter didn't speak much during the brief sentencing, but as he was escorted down a courthouse hallway after the hearing, he said of the Weaver family: 'Just tell 'em I apologize.'"
Previously
Christopher Gaines: Life without Parole for Homophobic Murder [tr]
Killer in 2004 Alabama Gay Man's Murder Pleads Guilty [tr]
NOTE: Those wanting more information about the Scotty Joe Weaver murder may want to pick up the DVD of the documentary Small Town Gay Bar
. It touches on Weaver's killing and offers a close look at the communities surrounding two gay bars in rural Mississippi.