Andrew Sullivan marries his partner in Provincetown.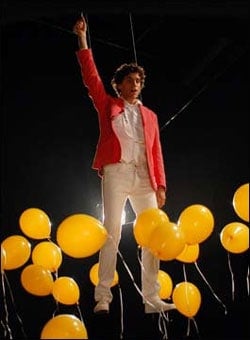 Mika shows off his helium heels in new video for "Happy Ending". How appropriate!

Lesbian refuses to back down to conservative objections after being nominated to be a Bishop by the episcopal Church: "I am honored and humbled to be named a nominee for Bishop of Chicago and to be included in the company of my fellow nominees, all of whom are faithful, accomplished leaders in God's church. Since the day last winter when I was asked to make myself available to this nominating process, my discernment prayer has been that God would continue to lead me to serve God's new creation in the church. I believe that accepting this nomination is what God is asking of me, and I will strive to respond to that call faithfully and with grace."

At the Michael Sandy murder trial in New York, revelations that the killers joked about attack: "Some of the young men now accused of killing him gathered in an apartment and read newspaper accounts of the attack, the youngest one told investigators. In street slang referring to murder, the oldest one joked, 'So, do you want to catch a body today?'"

Fascinating interview with gay Iranian couple who fled to Turkey: "We do not ask for much in life. I want to have a 40 meter apartment in Iran where I can live with my partner, the person I love. Get up in the morning and go to work, work, and feel at peace when I return home. That's it. Just a quiet life with my boyfriend. I'd like to reach this dream and not be hanged or stoned for loving someone."


What some gay men would do for Mariah.

Alleged photo of Pete Doherty abusing cat surfaces.

Daniel Radcliffe coming to Broadway with Equus. Nerves about "baring it all" remain…"It will be amazing, but I will be terrified because I was talking to Richard Griffiths about playing New York and he said the most stupid thing you can do is underestimate New York audiences."