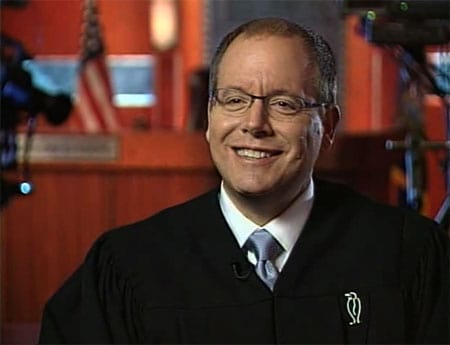 In mid-August I posted a clip of Judge David Young, whose new daytime court show premieres next week, on Monday, September 10. I recently had the opportunity to chat with Judge Young, about being out on the bench and his new show.
Young was born and raised in Miami (and lives there currently with his partner), served as assistant state attorney in Miami-Dade County under Janet Reno, and was re-elected twice as a Circuit Court judge there before leaving to hit the national airwaves. Among his more well-known cases is one in which he sent two America West pilots to jail in 2005 for attempting to operate a commercial airliner while intoxicated. He is also known for a quirky collection of items he keeps in his home (get your mind out of the gutter).
I'll touch on that later in this interview. One additional note. For those of you in New York, Young will be appearing this Monday, September 10 at a free event at The Lesbian, Gay Bisexual & Transgender Community Center at 208 W. 13th street at 7 pm with a reception at 6 pm.
I've watched judge shows in the past, but you're definitely something different.
That's what my mother says.
What made you decide that you wanted to leave the conventional courtroom and become a TV judge?
It happened out of the blue. I got an email from Sony Entertainment asking me if I'd be interested. And I've got to admit that every time I would see these judge shows, I would think to myself, "God, I'm better than this one," or "I'm better than that one," or "God, was there an opportunity that was missed." And this gave me an opportunity to blend two of my passions, entertainment and law.
Had you done entertainment or performed before?
Oh, no. I wish. Every time I would see a Broadway show, I'd think, "God, I'd love to be up there entertaining." Or at concerts…"God, I'd love that to be me."
So, had you sort of had it in the back of your head that maybe someday this was something that you wanted to do, or did it just come along and you took it?
I had it in the back of my mind as something I've always wanted to do but never knew how to go about doing it. And I also had in the back of my mind that I want to be a coach of the Miami Dolphin football team, but that'll never happen.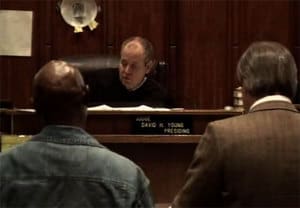 What possessed you to become a judge in the first place?
Interesting. I always thought of myself as having a career in politics, because I love politics. And I ran for the state senate in Florida, in Miami, back in 1988, and was defeated by the incumbent in a very interesting race. And it was 1990 when there was a really big scandal here in Miami called Operation Courtroom, where judges were getting money to fix cases and given money to leak the names of confidential informants, which was basically a death sentence to those confidential informants. And there was a whole lot of arrests. And I was walking around in a funk, thinking, "What can I do?" I needed to do something.
Oh, a little background. Dad was the first Jewish president of the Florida Bar, and he's a very accomplished lawyer nationally. And I've always been brought up on the law and to love and respect the law, so that's really been a passion since growing up as a child. My dad has a record that I did on his little Dictaphone, when I was three sitting on his lap, that "I want to be a lawyer like my daddy." So when I saw these people who were friends of mine, who I knew for years, selling out their judicial offices for lucres, I said to myself, "No, this is not right," and I needed to do something. And that's when I decided to run for judge.
And you've been a judge for how long?
14 and a half years.
Wow. So this must be a big change.
It's a wonderful change, actually.
What challenges have you experienced in the TV courtroom that are unique to that, as opposed to a conventional one?
I suspect that, as a judge, in real court, you don't have to tell a story. The story is told upon you or told to the jury, and you then make a decision or the jury makes a decision. Here, I have to tell the story. I've got to make the case interesting to the viewers. And then you rule. It's also a different animal in TV court, where I can say whatever I want to say without any restrictions. In regular court, I'm governed by a certain judicial code of ethics, and I've got to behave myself or else I'm going to get brought up for charges. And here I can just be free, let it all hang out, which is very liberating.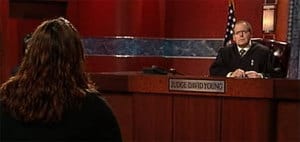 So, the people who are coming into the courtroom are aware that it's sort of a different situation than they would experience in a normal one.
Yes and no. Although they're aware of that, it's still a courtroom; it's still a judge making a decision. The only thing that's different is when they have redos. You don't do redos in my old courtroom. It's television, so if something doesn't come out the way that you want it to come out, you can redo it.
So, if it sort of has the same legal weight, why is it that you don't have to obey this code of ethics in the TV courtroom?
I'm not governed by any code of ethics. The only thing I'm governed by is the FCC. I mean, I'm not allowed to use some of the George Carlin words. But a real judge would never call someone stupid…Would not belittle them, would not put themselves as being the advocate. In TV court, you are the advocate. You are the person who does the questioning. You're the prosecutor. You're the defense lawyer. In real court, judges are the umpire: you call balls and strikes.
Did you have to teach yourself to be on camera? And how long did that take? What was that process like?
I think it's a never-ending process, actually. I was working with some people at Sony, to help with the transition… And it's funny, when I cut the pilot for this, several of the people in the audience, the support staff, said, "David, you are an animal! You're a natural at this. You're like a trial animal. It's unbelievable!" I said, "You think so?" They said, "This was made for you." So I guess I had more experience, maybe because I did the America West Airline pilots–two guys that were drunk flying an airplane–and I was on TV every day for three weeks. And I've had other cases where I've been on camera a lot, so the camera doesn't intimidate me. Now, do I like the fact that the camera puts on 10 pounds? No, that's why I'm on Weight Watchers.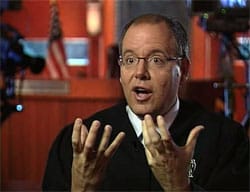 But you're conveying a message. And I use my philosophy that I took with me when I did the America West case, and the same philosophy I took when I became a judge is that I want to do what needs to be done so people will feel good about the justice system.
And I think the justice system's integrity, perception, comes from the judges. And we've seen, throughout our history, judges who have completely eroded the public confidence–i.e. Lance Ito and others.
And that wasn't going to happen in my courtroom. I was going to run a very strict courtroom where things were going to be done my way. I'm the judge. I'm in control. And I'm going to show people that the system works. They may not like the verdict, but that's not my problem. My problem is making sure the system is working appropriately.
And I've done that through several different mechanisms. One) by being open; two) by listening more than I speak; and three) by inserting humor and — in this new job, Broadway show tunes — when it's appropriate.
Now, I didn't see much of that in the clip that we posted. How often do you use show tunes?
Not often, but if something calls for it. It goes to the premise that you get more bees with honey than you do with vinegar. And a lot of the judges yell at people. Yell, yell, yell, yell, yell. You don't learn from yelling. When somebody yells at me, I just turn them off. I don't even listen to them, because it's not getting through. My whole idea of what a good judge does, and what I've been doing throughout my entire judicial career, is trying to help people. If you are an addict, come to deal with the fact that you have an addiction and get help for the addiction.
In my courtroom, I've had so many people that I helped get off of drugs, that have visited me once a month for 18 months, who are now leading really full lives because they're drug-free. I went to some birthday parties at AA meetings, birthday parties a year sober. And that's just an amazing thing, to see someone who was absolutely one step away from living in a gutter, seeing them get their family back, get their life back together and just leading productive lives.
And that's one of the reasons I took this job, is because I believe that through my personality and temperament, I'll be able to help people. And I want people to stop me on the street and say, "You know, I watched your show the other day and you really taught me something." Or, "Like you, I have an addiction with food and I'm going to Weight Watchers. Or "I'm controlling what I'm doing." Or, "My cousin had an addiction to drugs and because of what you said I got my cousin to 10 AA meetings." Or to rehab or something. That to me is a wonderful, wonderful, that they've admitted… It's a mitzvah to do that.
How do you feel that being gay helps you on the bench?
I think it keeps me more… I'm more sensitive to the issue of discrimination. And we had a case involving a bi-racial lesbian couple, and it was clear to me from the get-go that the landlord was constructively evicting them because he didn't of a) their sexual orientation and b) that they were a bi-racial couple.
And I finally got out of him, when I questioned him on it, he said, "Oh, some of my best friends are black." And then immediately, every hair on the back of my head stood up. And I tried to explain, I guess I reamed him out, but did it in such a way to point out that racism is not appropriate, and ignorant. And we have to go beyond what people's skin colors are or what their orientation is.
We have to go, it's what's inside a person's heart that is the determining factor as to whether they're a good person or a bad person.
Right. Have you ever had a professional situation where your sexuality became an issue, or you were confronted somehow because of it?
Once, actually. There was a case involving a gay bashing, and we didn't have hate crimes legislation back in the mid-1990s. And the public defender came up to me and said, "Judge Young, I feel really uncomfortable about this."
And I said, "Well, you shouldn't feel uncomfortable talking to me about anything. What's the problem?" "Well, this occurred outside of Twist and I want to know if you could be fair." Twist is a gay bar in Miami.
And I said, "Let me ask you a question. If I was an African-American and this was a case involving an African-American, would you ask me the question? Or if I was a woman and this was a rape case, would you ask me the question? Or if I'm Jewish and this is a hate crime against Jews, would you ask me the question?"
And I said, "If your answer is not to all those, then you should not even theoretically ask me that question, don't you think?" And he apologized and he just went right on.
Have you always been out professionally?
No, I haven't. I came out a year after I was elected.
A year after you were elected to…
The county court. I came out in 1994.
And was that a difficult transition for you to make in the court system?
Not at all. It was incredibly easy. And it was funny, because many of my colleagues, all the women on my floor, when I told them they said, "We've known for years. It's about time you came out." And all of them wanted to perform the wedding. And I said, "Well, you have to get it legalized first to do a wedding. But otherwise, we can talk about it then."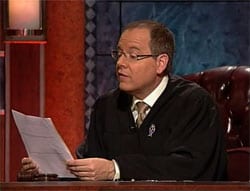 What court case or decision are you most proud of?
I've never been asked that question. Hmm. Probably… I can't mention one. I'm proud of the hundreds of people that I've seen turn their lives around. I had a young man who's gay, and he was a complete and total addict. He was a mess.
His boyfriend was very, very supportive. And he was at his wit's end also. And through communication and talking to him, I got him in rehab and got him help. And, yeah, he slipped up once and I took him into custody for a day or so, and came back. And when I left the bench — and I collect penguins — he brought me a boy penguin and a girl penguin because "no penguin should be alone." And he also brought me some other things to, which was kind of nice.
And he was on television, because he and his boyfriend do some catering on one of the local TV shows, and he said, "This is for my judge, David Young." So that was wonderful.
And I also had one woman who was in the early stages of drug abuse, and through my intervention… She ended up deferring her — she was a high school student — ended up deferring her freshman year in college. And she ended up going back to college and she came to me and she showed me her diploma and she said it's all due to me. And the college she went to is Princeton.
Wow.
Stories like that, those have to be my proudest moments. When someone conquers an addiction.
What's been your favorite show so far?
Probably a case involving some young people, some kids, who were involved in a little horseplay. And I had one of the kids break down and tell me the truth about what really happened. And the mother was shocked that I could get the child…That I could communicate effectively with children enough to do it. And that was a wonderful child. He told the truth. And I don't know if I ended up hugging from the bench, but I know I hugged him afterwards. And it ended up from a sad situation to a really good situation between all the parties involved.
Who's your favorite television judge? And how would you characterize your style as opposed to the other TV judges who are out there? You know, Judge Judy, Judge Mathis, etcetera.
Oh, Judge Judy has to be the favorite of everyone, because of her longevity and her tenacity. But I think every one of the other judges contributes positively to the administration of justice and makes a difference to those that they appear in front of them.
Yes, it's entertainment, but there's sincerity that goes along with it. If you watch all the judge shows, you see that they are really sincere in dealing with every case. So, I think I take away a little bit of all that.
What makes my show different is me. I watch them all and none of them have half the personality that I have. And you'll find you'll learn, as a I said before, you'll learn from my show. Learning is fun. And if learning is fun then you'll absorb. And after watching the show, you're going to absorb something. You're going to take something away that you didn't have when you began watching the show.
And it's funny, because I have some studio audience members who've been in the audience several times, and they've come up to me and they say, "You know, Judge Young, I entered into a contract and I read the contract, and if it wasn't for you I would never have read the contract."
Or, "When I take my dog on a walk, I make sure that I'm looking around, and the dog's on a leash, " and whatever. And so the message is getting through: personal responsibility. And it's that type of thing that I hope that'll portray me differently than the other judges on television. And the fact that I really care is going to show up too.
Do you feel like you get a different response to your court room manner from straight people than you do from gay people?
I think there's a sense of pride when a gay person knows I'm on television. Because they see that anything is possible. They see through hard work and the fact that can-do, can-do, can-do. So that I would feel good about, that I can be a role model. As far as any tangible difference between a straight person? No, none. None at all.
I was just sort of looking at some of the comments that people had left in the post that I put your clip up on, and some people were saying, "Oh, Judge Young, he's just one of these loud queens." You know, "Justice with a snap." "Why do we need another flamboyant gay man on TV?" How do you respond when people say things like that?
Well, I tell them, as gay people we tend to make snap judgments, don't we? watch the show. When they watch the show they're going to see. They're not going to see some flamboyant queen wearing with his ass sticking out with a bow around his neck. They're going to see a real judge litigating difficult issues, dealing with personalities, and coming up with a decision. There may be some camp at times, if it's appropriate and it will make the point. But as far as being a broadcast at a tea dance at P-town, that's not going to happen. That's not what you're going to see. A real judge show with a real judge.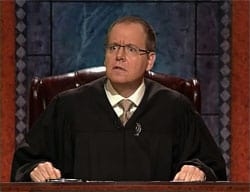 How do you feel about President Bush and accusations by some Republicans that activist judges in the country are pushing forward a pro-gay agenda?
That's a lot of horse crap.
This is an interesting story. We had, in Florida, what's called the Judicial Qualifications Network. Commission, I'm sorry. The Judicial Qualifications Commission. It's a commission which governs the standards of judges. And when you get in trouble, you write a letter to the JQC and then they investigate. And you have two county court judges — which is the lower trial court — and two circuit judges, which is the highest trial court. Two appellate judges and then the governor appoints some and the Florida Bar appoints some.
And there was an opening and I ran for it, within the circuit judges. And the wife, I believe, of my opponent — I'm not certain but I'm pretty sure it was her — said to one of these new women judges, "I've never seen you before." And the judge said, "Well, I just got appointed by the governor."
She goes, "Oh, you're a Bush appointee. I guess I can tell you a secret." And she said, "What's the secret?" And she said, "Well you know the race that's going on between Don Rand and David Young, well, David Young's a homosexual."
And what she didn't know is that this judge was a good friend of mine. And this judge said, "Well, of course everyone knows David is gay. That's not a secret. Is he good or bad?" And I got elected. By a pretty good margin. I got the entire state. Every circuit judge from Key West to Pensacola. They all vote on it. And they voted for the openly gay guy.
Do you believe there is such a thing as an activist judge?
Sure. I mean, every judge is an activist judge. Every time you make a decision it's a sense of activism. I mean, the Supreme Court was activist when they gave him the White House.
In order to make a decision, you have to be an activist. And if you're a pacifist you don't belong on the bench because you're not making decisions. But it's the activism that suits them. And if you're with them then you're not an activist. If you're against them then you are an activist.
And I don't think activist is a bad thing at all. Yeah, I wonder if the senator from…Iowa is it?
Idaho.
Idaho. I wonder if he's an activist. Hmm.
Yeah, an activist for something. How do you feel about decisions regarding issues like gay marriage being made in the courts rather than the legislature? Because I know that there's a lot of debate that goes on about that as well.
Well, if it wasn't for the courts, we'd never have civil rights. The courts acted way before Congress acted. And we have three branches of government. If one branch of government is falling down on the job and not protecting the rights of its citizens, then another branch has the right to move in as long as it doesn't exceed the Constitutional requirements and the Constitutional limitations. And if it happens in the court, so be it. If Congress gets around to it later, that's their problem. If it was up to Congress, blacks wouldn't have the right to vote, women wouldn't have the right to vote. It was the courts that made all those things possible.
It mentioned in your biography that you're partner is also a judge.
That's correct.
How does that affect your home life? You've been together for how many, 12 years?
12 1/2. It's going to be 13 in January.
That's excellent. How does that affect your home life, that you're both judges? And how does he affect what your style is and the decisions that you make?
Scott and I have a true partnership. It's a 50-50 partnership. Actually, it's kind of like 90-10: I do whatever he wants. I'm kidding. The best two words to keep a relationship, whether gay or straight, is "Yes, dear." Knowing what we have to go through makes it so much easier. You hear about spouses in the judiciary breaking up all the time, divorces. And I expect that's because the spouse doesn't understand the restraints that come with the job and the limitations that come with the job.
And when Scott ran for judge back in 1998, I couldn't even have a bumper sticker on my car, or we couldn't put a sign up at the house, because I lived at that house. It's like I'm endorsing him, you know? We can share a bed together, but I can't endorse him. So it's kind of silly. But that's part of the rules and regulation that we agreed to abide by. It's a 50-50 relationship. We accept everything together. I constantly go to him for advice, he constantly comes to me for advice. There's no jealousy whatsoever. Our styles are so different. Scott is very, very bright. He's such an intellect. And I'm much more fun at a party. So it works, it really does.
I was the first openly gay man on the bench in Miami. In South Florida. Probably in the state of Florida. And Scott was the first openly gay man to run for office in the state of Florida and get elected.
How does he feel about your new TV role?
He could not be more supportive. He loves me. That's never been a goal of his, television or entertainment. Being the intellectual that he is, he's much more into the books and the research and the theories and all the other things that go to being a thoughtful, thoughtful judge and a thoughtful person.
And it's so great when I have a question about a case, I can go to Scott and get a legalese and non-legalese professional wonderful answer from him, because he's so bright and he's so well-read. So it really is a really good combination we have. And yet I still take out the garbage, because he doesn't. And I still take care of the dog, because the dog likes me better.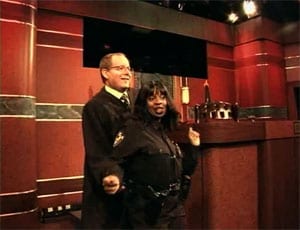 What qualities were you looking for in a bailiff, and how do you feel that Tawya adds to the mix?
I was hoping the bailiff and I would click. Somebody who was fun, who was irreverent, who had some facial expressions, who would speak her mind and not be quiet and subdued. Pretty sassy. And Tawya's all that. She's wonderful. She doesn't take crap from anybody. She's just with it. She understands it. She understands the human element that goes with working with people. And that is so important.
It seems like you have a good chemistry.
We really do.
On another note entirely, tell me about your penguin collection. How did that start?
It started with The Penguin from "Batman." I love Burgess Meredith.
Now, is it a collection of Burgess Meredith Penguins or a collection of penguin penguins.
Penguins. I just love The Penguin on "Batman." Men in tuxedos, I don't know. But whatever it is, it stemmed from that. And I had a couple penguins, and people…I went to somebody's house. This is a true story. I went to somebody's house and they were collecting penguins. And I thought, "My god, I love penguins. I love The Penguin from 'Batman.' Let me do that too." And I collected a few, and then people saw that I collected them so they started giving me gifts. And all of the sudden, it just doubled and doubled and doubled. Now I've got a rookery in my house.
Aside from fulfilling your entertainment fantasies, what do you hope to accomplish with your new show?
One of the things that I really, really want to stress is that I want to be a spokesperson. I want to be a role model for those young men and women who are going through this identity crisis in terms of. : "I can't be gay, because if I am gay, that means that I can't be president of the United States. I can't be head of an international corporation. I just can't do it." And go to be every night praying and praying to be straight.
I want to be a voice of hope. I want to be a person of hope. I want to be someone who they can look at and say, "Hey, look at David Young. David Young did it. I can do it." Anybody can do it with hard work and determination. We don't let our sexual orientation act as an impediment to achieving whatever goal we have set for our lives.
Conversely, I want to be a conduit to the parents of those young men and women who are just coming out. To say, "You need to love your children unconditionally. Gay, straight, bi, transgendered, whatever they are, they are part of you. And as a family member, you must love them. And you can't reject them. You should never want to reject your child."
And I don't think most people want to reject their child. But I think through ignorance and bigotry and being unsure, they do. Because they see these gay stereotypes and they think, "I don't want my child to be some freak that we see in the gay pride parade that's broadcast all over the…"
That's all they see.
That's all they see. And not that there's anything wrong with that. Believe me, without those individuals in our community, we wouldn't be where we are today. Because they were the foundation. The drag queens were the foundation of the gay rights movement back in Stonewall.
So, I hope to be that voice and that role model, and speak to organizations. Gay, straight, I don't care. I'll speak to anyone who'll give me an audience to talk about compassion and talk about passion in everything, in all of our passions. I mean, let's go for it.
Judge David Young premieres on Monday, September 10. Check the website for stations in your area.