Bob Ball, a gay real estate developer from Portland, Oregon who is seen as a would-be politician and reportedly has an interest in running in the city's mayoral race, has been accused of launching a nasty smear campaign against the leading candidate for the top job who is another openly gay man — City Commissioner Sam Adams.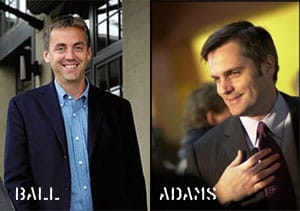 It appears that Ball has decided to use the recent gay political scandals (such as Mark Foley and underage pages) as fodder for an unsubstantiated smear job against his potential opponent. Ball has apparently twisted a mentoring relationship that Adams had with a 17-year-old intern in the Oregon house to make it appear something untoward was going on.
The Oregonian reports: "The problem: The story Ball told about Adams and a 17-year-old legislative intern isn't true, according to both Adams and the young man. Adams acknowledges trying to be a mentor, including exchanging numerous phone calls and text messages with the young man over several months in summer 2005. But both men said that they have never been anything more than friends. Ball said he was doing a public service in speaking with [Portland City Commissioner Randy] Leonard, implying that as a reserve police officer he felt a responsibility to report suspected child abuse. Oregon law requires people in positions of responsibility — public or private — to report child abuse to police or welfare workers. Those he told, including Leonard and former Mayor Vera Katz, said they took it as an attempt at political assassination."
The charges have led Adams to write an open letter to the citizens of Portland.
Writes Adams: "I have in the past, and I will in the future, respond to people who reach out to me for help and advice. This is especially true when it comes to young people. Growing up in Newport and Eugene, Oregon I remember when I was a teenager and I had nobody who I felt I could talk to at a time I desperately needed someone to give me advice and perspective about coming to terms with being gay. I came through it. Not everyone does. Gay youth suicide rates, homelessness and depression are still too high. And adequate services have been lacking: Reasons why I co-founded Portland's Q Center, served on the Boards of Cascade AIDS Project, Basic Right Oregon and lobbied the state legislature in support of statewide non-discrimination laws. I didn't get into public life to allow my instinct to help others to be snuffed out by fear of sleazy misrepresentations or political manipulation. I understand the need for good judgment, and I keep within the bounds of propriety — as I did in this case."
Beau Breedlove, the 17-year-old intern who is now 20, continues to say there is and never was any kind of romantic relationship between him and Adams. Ball has issued a statement in response to the local media frenzy regarding the accusations, concluding "Any story here is not about me."
The Portland Mercury blog frames the debate. Adams told the paper: "If this had come from the right wing—and it probably will now—that would have been one thing. But to come from another gay man is something more hurtful. It plays into the worst, deep-seeded fears society has about gay men: You can't trust them with your young."
Mayoral Race Off to Brutal Beginning [williamette week]
Gay on gay political smearing? [oregon live blog]
Fallout from rumors stirs City Hall politics [the oregonian]
An Open Letter to Portlanders [sam adams site]