San Diego Mayor Jerry Sanders was expected to veto the resolution passed yesterday by the City Council that urges the California Supreme Court to overturn California's ban on same-sex marriage.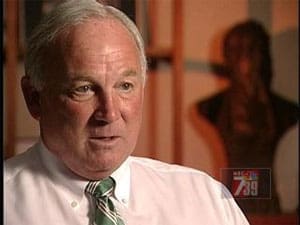 Sanders, whose position on the issue has been to support civil unions but not same-sex marriage, instead made an emotional shock announcement at a press conference last night. (Full raw press conference video here)
Said the mayor: "Two years ago, I believed that civil unions were a fair alternative. Those beliefs, in my case, have since changed. The concept of a 'separate but equal' institution is not something that I can support."
The reason? Sanders' daughter Lisa (middle in photo), is a lesbian. Lisa reportedly told her father that she was gay and in a committed relationship four years ago, and Sanders said he could no longer deny her the rights offered to everyone else in the country.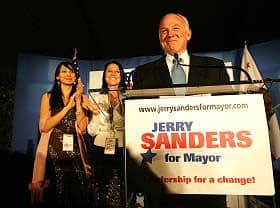 Said Sanders: "In the end, I could not look any of them in the face and tell them that their relationships — their very lives — were any less meaningful than the marriage that I share with my wife Rana."
MSNBC reports that Sanders said "he thought of friends and members of his staff who are gay" when making his decision: "I just could not bring myself to tell an entire group of our community they were less important, less worthy or less deserving of the rights and responsibilities of marriage than anyone else, simply because of their sexual orientation…I want for them the same thing that we all want for our loved ones. For each of them to find a mate, whom they love deeply and who loves them back. Someone who they can grow old together and share life's experiences."
Sanders is a Republican former police chief.
Jerry Sanders press conference
Sanders Makes Emotional Statement In Support Of Gay Marriage [msnbc]
San Diego Mayor Reverses Objection to Gay Marriage After Daughter 'Comes Out' [ap]
You may have missed…
San Diego City Council Votes to Support Same-Sex Marriage [tr]