Anti-gay Fort Lauderdale Mayor Jim Naugle calls in to Michelangelo Signorile, hangs up after 10 minutes.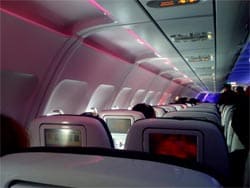 Virgin America announces in-flight air-to-ground broadband: "But even more interesting…VA will also be offering what amounts to a fleet-wide, airborne social network. Guests on one plane will be able to interact with other guests on that plane — and with flyers on other planes within the VA fleet — using Red. As I understand it, they've got some pretty ambitious plans in the works for in-flight interactivity. This could get really interesting."

Rosie O'Donnell admits to breaking own bones with a hammer as a child: "My hands and fingers usually. No one knew. My secret. Proof, that I had some value, enough to be fixed."

British politician accused of winning local election by slinging homophobic comments, court hears: "The court heard Mr Smith was devastated by the way he had lost his seat to Ms Grell by 28 votes. He later moved to northern England. In the final weeks of canvassing, people slammed doors in his face and, after his defeat, he was abused, threatened and spat at, the court heard. Leyton resident Naomi Robinson told the court she was shocked to hear Ms Grell call Mr Smith a paedophile during the election campaign. She said: 'Miss Grell told me to ask him [Mr Smith] about his 14-year-old boyfriend as she was driving away from the front of the house. I was quite shocked actually. I was not sure whether to believe it was true or not.'" UPDATE: Accused claims political conspiracy against her.

Scientists find "slight hint" of cancer risk for 10-year cell phone users.

Ricky Martin closes on swank Manhattan condo at a $3.5 million discount: "Martin's 2,637-square-foot pad with 11-foot ceilings includes a great room, a gourmet eat-in kitchen, a dining room and a study off the master suite. The residence features oak floors and a master bath with a 'wet room.'"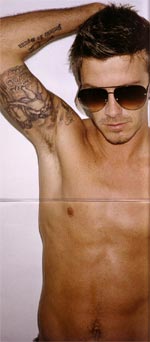 Becks bares it for 2008.

UK students behind "racist/homophobic/sexist" Facebook group: "The creator of the group defends it in a disclaimer, accompanying the comments. He says: 'This group is tolerant of all racial groups, genders, people of all different sexual persuasions. It welcomes anyone and everyone. Join us. It's just a bit of a laugh.' But the group – as demonstrated by its name – does go on to write discriminatory things about all different types of people."

Berets and briefs rock the 2xist underwear show at NYC fashion week.

You've seen the video, now meet the Missionaries. And watch the MSNBC report.

Led Zeppelin to reunite for one-off comeback concert in London.

Google founders get private jet parking space from NASA.

Ann Arbor, Michigan man pleads guilty to a misdemeanor assault and battery charge for shouting homophobic slurs and hurling a dresser drawer at a pair of pedestrians.

Conservatives protest gay textbook bill in Sacramento: "'The Campaign for Children and Families' claimed students would be forced to read about gay history and exposed to 'bisexual propaganda.' The group called for a veto. 'This is not teaching them the birds and the bees,' said Randy Thomasson of the Campaign for Children and Families. 'This is saying a boy can wear a girl's dress. This is saying you might want to engage in bisexuality or transsexuality. This would revolutionize sex education.'..The bill's supporters said they believe the bill would build tolerance and non-discrimination in public schools."

180?: CNN shortens Anderson Cooper's "ambitious programming block" to one hour. UPDATE: Variety report debunked…