Several artifacts from pioneering gay activist Frank Kameny's collection have gone on display at the Smithsonian's National Air and Space Museum (a temporary location) in the "Treasures of American History" exhibit, the Washington Post reports: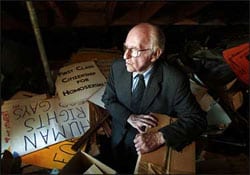 "[Protest signs], plus three campaign buttons, are now in the same case as Joe Louis's boxing gloves, near the glass closet that holds Jackie Kennedy's inaugural gown and in the same shrinelike exhibit…that also has Thomas Jefferson's writing desk and the ruby-red slippers that Dorothy wore on her way to meet the Wizard."
Kameny recently donated over 70,000 papers to the Library of Congress. The Library's acceptance of the papers inspired a spate of unsuccessful protests from "pro-family" groups.
The placement of the gay rights items in a somewhat eclectic and essentially "mainstream" exhibit serves only to accentuate their power, Kameny's purpose, and America's progress on the issue, the paper notes:
"But look around the display, at Rosie the Riveter, an early Teddy Bear, a pair of Keds sneakers and a Barbie doll, and gay rights signs seem like rather different objects. People may object to whether the museum gets the history of the labor movement right, or whether toys and pop icons are worthy to be seen next to Gen. George Washington's uniform. But gay stuff, whether it's a photograph in a newspaper or an exhibition in a museum, elicits a more visceral negative response. Rather than argue with the message, or the truth of the image or display, people tend to say, 'I shouldn't have to see that.' Or rather, 'My kids shouldn't have to see it.' That reaction, if it comes, only reinforces the potency of Kameny's half-century-old strategy. It is still all about visibility. In that sense, the old picket signs that Kameny, a self-confessed 'pack rat,' stored all these years are still working (even in a museum) in their original way. Their presence there is the message."
And Kameny is still active. He recently threw his support behind Gay American Heroes, the recently announced effort to create a national memorial for victims of anti-gay hate crimes.
You may have missed…
Wingnuts Gear Up for Hate Campaign Against Library of Congress for Accepting Papers of Pioneering Gay Activist Frank Kameny [tr]
Franklin Kameny: Activism Honored [tr]