Both Rosie O'Donnell and Donald Trump have books in the offing, and according to Page Six they're taking their long-running feud to print. Says Rosie of Donald in Celebrity Detox
: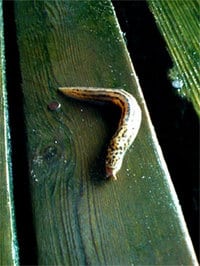 "It is Trump's falseness that angers me more than anything . . . I spoke my mind. People found it funny. I honestly did not anticipate the malice of his response…I assumed Donald believed he had money. I did not assume Donald believed he was money. But apparently he does…The stuffing of his self spilled out – think of a torn scarecrow, only instead of hay, it's crisp $100 bills blowing through the cornfields."
Rosie also said Trump reminds her of "garden slugs. I could write one small comment on my blog, and Donald would predictably distend, flowing forth with a torrent of insults…Then he'd appear on some talk show looking wrinkled, old and empty, with a Jell-O orange combover. I did not anticipate that he would be cruel enough to do what he did to Barbara [Walters – whom he called a liar]. She should have been left alone."
I was going to leave this item alone, but coincidentally I came across a garden slug yesterday and the wannabe nature photographer in me took a quick shot of it with my cameraphone. No combover though.