As Idaho Senator Larry Craig's court date, at which he will attempt to withdraw his guilty plea, approaches, columnist Frank Rich (now out from behind the NYT TimesSelect firewall), throws his support behind the ACLU and longtime activist Frank Kameny, calling for the exoneration of Larry Craig. Kameny argued for the innocence of the "self-deluding hypocritical homophobic bigot" last week in a letter to conservative rag WingNutDaily.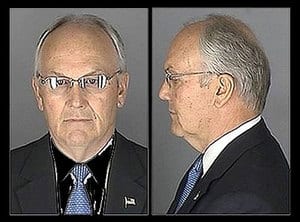 Said Kameny: "Fair is fair. [Craig] was the victim of a false arrest and a malfeasant prosecution."
Rich agrees: "While there's widespread agreement that Mr. Craig was an idiot not to consult a lawyer before entering a guilty plea (for disorderly conduct, a misdemeanor carrying a $575 fine), idiocy is no more a federal offense than hypocrisy, especially in Washington. What Mr. Craig did in that men's room isn't an offense either. He didn't have sex in a public place. He didn't expose himself. His toe tapping, hand signals and 'wide stance' were at most a form of flirtation. As George Will has rightly argued, if deviancy can be defined down to 'signaling an interest in sex,' then deviancy is what 'goes on in 10,000 bars every Saturday night in our country.' It's free speech even if the toes and fingers do the talking."
Larry Craig is scheduled to appear in court on Wednesday.
Pardon Poor Larry Craig [nyt]