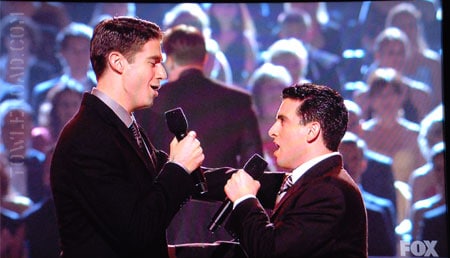 Maybe it was a nod to gay Vito, but I couldn't help but pick up on a bit of electricity near the end of the Jersey Boys' Sopranos tribute last night at the Emmys, before the entire cast trotted onstage for their twenty minute ovation.
None of the gay actors nominated last night — Neil Patrick Harris (who showed up with his boyfriend actor David Burtka), T.R. Knight, or Ian McKellen — took home an award, but notable among the other winners was Greg Daniels for a much-lauded episode of The Office entitled "Gay Witch Hunt" which focused on the unintentional outing of the show's paper supply accountant, played by Oscar Nuñez.
AfterElton has a wrap-up of the other gay goings-on, and here's a list of the winners.