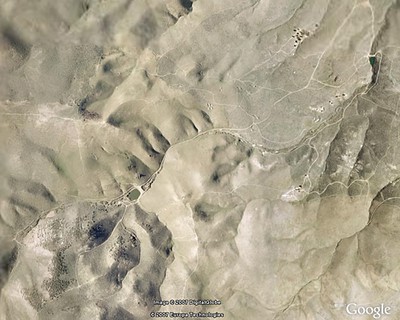 Please welcome Jon Barrett, who is penning the TowleTech column this week here on Towleroad! We'd also like to extend a special thanks to Daniel Williford who wrote this column for many months but recently had to step down due to time constraints.

Amazon and Google users are putting satellite technology to work to find missing adventurer Steve Fossett. Nevada Civil Air Patrol Major Cynthia Ryan welcomed the help, but said it was "unlikely that Google Earth would have picked up anything that military satellites would not spot."


If you're still jonesing for an iPhone but are tethered to a wireless provider other than AT&T, you could be in luck. Several hackers have developed software that unlocks the phone, enabling it to work on other mobile networks. The software will cost very little—free in one case—but you may have to give up some of the popular iPhone features, including the visual voicemail. Incidentally, today Apple announced how the iPhone early adopters can get their $100 credit. In other iTunes news: There are at least five annoying things about the ringtone service, and a software slip-up suggests an upcoming movie rental service.

Britney Spears' performance that opened last Monday's VMAs sparked the most water-cooler chatter since Lauren Caitlin Upton's Miss Teen USA flub, but MTV parent Viacom let its rivalry with YouTube parent Google get in the way of millions of hits—and a 50 percent share of YouTube's ad profits—by pulling the video from the site.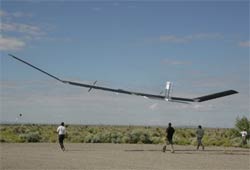 A 66-pound unmanned aircraft called Zephyr stayed aloft for 54 hours above White Sands Missile Range in New Mexico, possibly shattering the current world record. But, as Wired.com reports: "Because there was no attending representative of the official governing body for aviation-related world records, the Swiss-based Fédération Aéronautique Internationale (FAI), the dart-like Zephyr's accomplishment may not fly into the record books after all."

Once you pop, you can't stop the whacky marketing efforts to get consumers to buy music CDs. The latest: The Ringle. Customers and Wal-Mart and Best Buy will be able to purchase $5.98 CDs that include three single with an accompanying mobile phone wallpaper and ringtone for each. The Boy Genius declares: "This could be one of the stupidest things we've seen. Nevermind the fact they're going ass-backwards and reverting from a digital product to a physical product that must be printed, packaged, shipped, and stocked."

This guy's not only excited to see you, he's got a drumset in his pants. Cool Hunting's Josh Rubin reports: Tyler Freeman, aka Obdol,
inserted touch sensitive patches into the pants which allows wearers to
tap out all sorts of beats on themselves. Hooked up to a computer and
amp, the pants are capable of producing a multitude of sounds.

Danish architects Bjarke Ingels Group used 250,000 LEGO bricks to build a model of LEGO Towers, a proposed Copenhagen development, which hopefully won't be made out of LEGOs. The model will be exhibited in New York City beginning October 2, but until then you can enjoy a time-lapse video of its creation here.


Griffin Technology will be shipping new iPod nano accessories in October, and the "Reflect" case is hot. It's got a mirrored finish that looks opaque until the iPod's screen activates and shines through.

If California Governor Arnold Schwarzenegger gives the OK, San Francisco buses will be equipped with forward-facing digital video cameras, which will then be used to automatically ticket cars that block the bus lane.

Can't find Fido? Give him a ring with this new "mobile phone" for dogs.
S P O N S O R …
Newegg.com is the sponsor of the Towletech. I wonder if they ship things quickly. (Mike)
Advertise here with ModurbanMedia > Select.