Sean Penn has reportedly signed on to play Harvey Milk in Gus van Sant's project about the slain openly gay SF supervisor, and could begin shooting as soon as December, according to the Hollywood Reporter.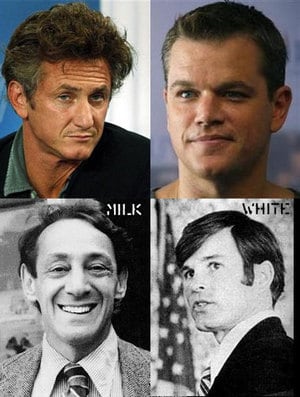 Matt Damon is reportedly attached to play Milk's assassin, fellow supervisor Dan White, although the project's start date could affect Damon's participation.
Van Sant's project, as yet untitled, has a script from Dustin Lance Black (Big Love) and will be produced by Bruce Cohen and Dan Jinks (American Beauty)
In April I posted about the rival Harvey Milk projects that were racing towards production. At odds with Van Sant's project is the long-simmering Mayor of Castro Street, a project being produced by Craig Zadan and Neil Meron which currently has Bryan Singer attached as director.
In 1977, Harvey Milk became the first openly gay official elected to the San Francisco Board of Supervisors. He would serve eleven courageous months before being brutally murdered at City Hall in a homophobic attack by supervisor Dan White, who had eluded metal detectors by climbing in through a basement window. White also murdered mayor George Moscone.
In a stunning sentence, White was convicted of two counts of involuntary manslaughter and sentenced to seven years and eight months. The main defense that White's lawyer gave was that he had eaten too much junk food the day of the murders which had somehow influenced his actions. It was labeled by critics as "the twinkie defense." White was paroled after six years and committed suicide soon after.
Milk had been paranoid about a threat of assassination because of his outspoken role in the community and his views on gay rights. On one of many audio tapes that was discovered after his death, on which he had recorded a will, he said: "If a bullet should enter my brain, let that bullet destroy every closet door."
According to the Reporter, "Penn has never portrayed an openly gay character onscreen, but he did play the sexually ambiguous Olivia Newton-John impersonator 'Groovin' Larry' in a section of Trent Harris' 2001 cult hit 'Beaver Trilogy.' Penn's video short was shot in 1981, then combined with Harris' 1979 documentary short on the amateur performer and his 1985 short narrative version 'The Orkly Kid,' starring Crispin Glover as Larry, to create 'Beaver.'"
You may have missed…
Singer and Van Sant Vie to be First with Harvey Milk Film [tr]
Harvey Milk to get Bust at San Francisco City Hall [tr]
Thank God for Harvey Milk [tr]