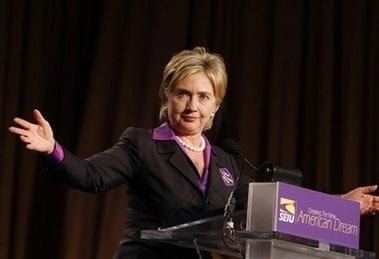 New York magazine is reporting on a forthcoming issue of the Advocate in which Senator Hillary Clinton is questioned on both "long-standing rumors" regarding her sexuality and whether or not her stance on civil unions is just a front for a more deep-seated genuine belief that marriage should be offered to all U.S. citizens.
Says Clinton of the lesbian rumors: "People say a lot of things about me, so I really don't pay any attention to it. It's not true, but it is something that I have no control over. People will say what they want to say."
Kennedy also asks the presidential hopeful whether her position privately is for marriage equality even though she hides behind one supporting civil unions.
Says Clinton: "I would tell you [if it was]. This is an issue that I've had very few years of my life to think about when you really look at it, when you compare it to a whole life span. I am where I am right now, and it is a position that I come to authentically."
And I'm sure Jerry Sanders would have said the same thing at one point.