A lawyer and an agent for boxer Oscar de la Hoya say photos that surfaced yesterday on the internet of de la Hoya in high heels, fishnet stockings, and a wig are fake.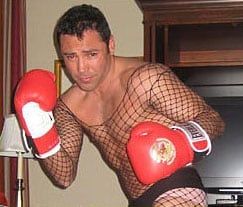 De la Hoya's agent at CAA, Jack Tiernan, told Radar: "They're completely manufactured. The pictures have been manipulated or manufactured, and the matter has been referred to his attorney."
Radar reports, "The whole thing comes in the wake of a bet De La Hoya had previously made with Sugar Ray Leonard over a minor fight in which the loser would then handle ring card girl duties during the subsequent main event. The fight was postponed."
De la Hoya's attorney Bert Fields released a statement to the press: "The photographs depicting Mr. De La Hoya's image that were posted online today by an obscure paparazzi website are fake. Many of the website's viewers (as reflected in postings on the site) identified the photos as a 'really bad photoshop job.' Unfortunately, with today's technology, anyone can make any photo seem like something other than it is."
While Fields has demanded that X17, the site which first posted the shots, takes them down, the site is defiant and has placed them more prominently: "Regarding the possibly [sic] Photoshopping of the images — NOPE! — we got a letter for Oscar's lawyer today and while they'd love us to take down the pix, they don't seem to dispute their authenticity!"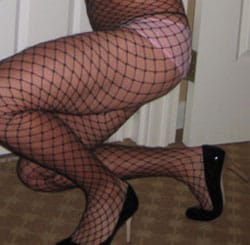 The New York Daily News' Rush & Molloy report that the exotic dancer from Scores West who sold the photos claims they are authentic:
"The photos are being peddled by a Scores West dancer, according to R. Couri Hay, the Gotham magazine columnist who scored the first interview with the twentysomething woman. 'She says she took the photos at the Ritz-Carlton in Philadelphia on May 17,' Hay tells us. 'I fully believe she is telling the truth. She had been reluctant to talk. But now that she's being called a liar, she's ready to sell her story. And, believe me, she has a lot of details.' A friend of the unnamed woman says that De La Hoya would regularly invite her and other party pals to join him when he left his family at home in Puerto Rico. 'He'd send a private plane or fly them first-class,' says the friend. 'They'd meet up in hotels, where the party could go on for days. There was a lot of tequila. It involved men and women. They indulged his every whim and taste. He wore size 9 ladies shoes. He also liked wearing thigh-high nylons. He liked sex games. He and the girl would sit in a chair that they'd pretend was a motorcycle. He'd pretend he was the girl on the back of motorcycle. She'd be the guy. He'd grab her around the waist and squeal, 'Faster! Faster!""
De la Hoya's rep Debbie Caplan accuses the dancer of being "out for money".
You may have missed…
Oscar de la Hoya: Pretty in Pink [tr]
Sportrait: Floyd Mayweather and Oscar De La Hoya [tr]