It's the third annual Gay Day this Sunday at the London Zoo: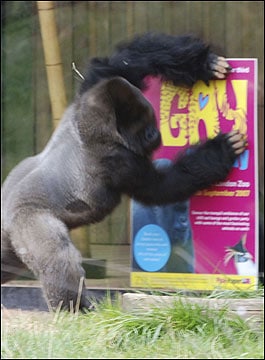 "There'll be chances to meet and greet some of our animals, as you savour the ambience of our VIP chill out lounge. Take time to design your perfect urban safari, picking and choosing from our jam-packed programme, offering everything from interactive family workshops to animal talks, feeds and demonstrations. Get closer to the natural world: come face to face with a gorilla as you explore our awesome new Gorilla Kingdom; watch tiny monkeys dart around in the treetops while birds flit between branches in our tropical Clore Rainforest Lookout; travel into the Bolivian rainforest to get up close and personal with the black-capped squirrel monkeys in our walk-through Meet the Monkeys exhibit; or immerse yourself in our vibrant Butterfly Paradise."
However, one gorilla is not having it.
The Sun reports that zookeepers attempted to put up a poster advertising Gay Day in the Silverback gorilla's home away from home, the gorilla immediately went to tear it down.
We don't blame him. We wouldn't want that thing on our prison wall either.
The sad news is that captivity may be the only place there will soon be for the great creatures. The BBC today reports that gorillas top The Red List of Threatened Species for 2007:
"The World Conservation Union (IUCN) has identified more than 16,000 species threatened with extinction, while prospects have brightened for only one. The IUCN says there is a lack of political will to tackle the global erosion of nature. Governments have pledged to stem the loss of species by 2010; but it does not appear to be happening…One in three amphibians, one in four mammals, one in eight birds and 70% of plants so far assessed are believed to be at risk of extinction, with human alteration of their habitat the single biggest cause."
And it appears even in captivity they have their habitat altered.