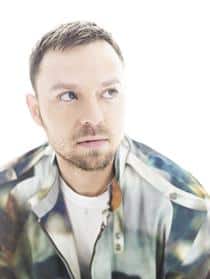 Please welcome Robbie Daw, who will be penning occasional music posts for us here on Towleroad! Robbie runs his own pop music site called Chart Rigger.
This week we've got something a bit different for you, in that I had the opportunity to interview Darren Hayes over the weekend exclusively for Towleroad readers. But rather than type the whole thing out, Andy and I decided it might be a bit more fun to stream the conversation as a podcast.
Darren Hayes, who between his years as both the singer for successful Australian duo Savage Garden and then as a solo artist, has sold over 30 million records. A year ago he married his partner, Richard Cullen, in London, and last month he put out the two-disc This Delicate Thing We've Made worldwide on his own label, Powdered Sugar.
Ironically, the same day of his album's release, news of allegations against him — revolving around a racial slur he allegedly made in a London restaurant — broke out. In the interview, Hayes talks about all these things, as well as the artists who have influenced him like Annie Lennox and Prince, and how growing up with an alcoholic father made him the artist he is today.
He also tells some great anecdotes about working with Janice Dickinson on his latest video ("We loved having her on set. I did have to run around making her cups of tea.") and getting to sing with Luciano Pavarotti.
Play the podcasts below as you would a video.
PART ONE: "Madonna is about to leave Warners and perhaps forge a relationship with a promoter. I've found myself at the forefront of this movement away from the major label system."
PART TWO: "I couldn't even think, let alone utter, a racist remark. But there's an investigation and I totally support that."

NEWS BITES: Madonna buys a sex toy.
Kanye West promises to boycott MTV.
Kid Rock could face jail time after his VMAs brawl with Tommy Lee.
Pet Shop Boys cancel their September 27 gig at the Hollywood Bowl.
Kaiser Chiefs ditch their American tour to "concentrate on recording new material."
It's down to the wire for Phil Spector.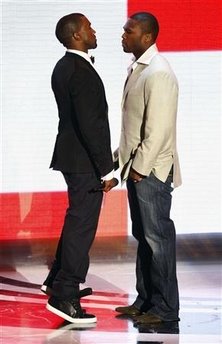 YESTERDAY'S NEW RELEASES:
After weeks of the rappers' hype and posturing, 50 Cent's Curtis and Kanye West's Graduation officially began their chart showdown yesterday. However, if country music by a singer who is most certainly not gay is your thing, Kenny Chesney's Just Who I Am: Poets & Pirates is also out.
Other albums dropping yesterday included alt rock act Hot Hot Heat's Happiness LTD., Scottish DJ Calvin Harris' I Created Disco and Rogue Wave's Asleep At Heaven's Gate.
iTunes also has up new singles by Alicia Keys' ("No One") and Backstreet Boys ("Inconsolable"), and a remix EP for Gwen Stefani's "Now That You Got It."