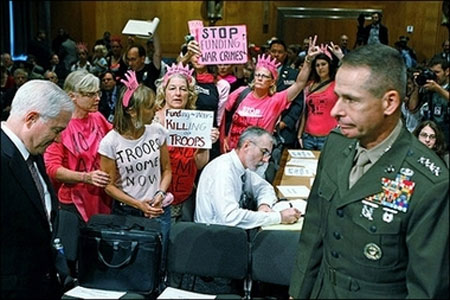 In a Senate hearing today regarding the Pentagon's 2008 war spending request, Chairman of the Joint Chiefs of Staff General Peter Pace reiterated his comments about homosexual immorality, causing a five-minute shutdown of the hearing in which the doors to the chamber were briefly sealed. According to the AP, Senator Tom Harkin asked Pace if he wanted "a chance to amend his remarks in light of his retirement." This is Pace's last week on the job.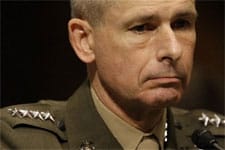 Said Pace: "Are there wonderful Americans who happen to be homosexual serving in the military? Yes. We need to be very precise then, about what I said wearing my stars and being very conscious of it. And that is, very simply, that we should respect those who want to serve the nation but not through the law of the land, condone activity that, in my upbringing, is counter to God's law."
Upon hearing those comments, anti-war protestors seated in the room reportedly began objecting and yelling, which led to the brief adjournment.
When the hearing resumed, Pace reportedly continued his remarks:
"I would be very willing and able and supportive [to changes to the policy] to continue to allow the homosexual community to contribute to the nation without condoning what I believe to be activity — whether it to be heterosexual or homosexual — that in my upbringing is not right."
Senator Tom Harkin objected to Pace's comments as "hurtful" and "demoralizing".
Last March, Pace caused controversy when he declared that he believed "homosexuality is immoral" in an interview with the Chicago Tribune. He later said he regretted the comments but stopped short of apologizing.
The remarks ignited a national debate on gays in the military, prompting reactions, or unfortunate non-reactions in the case of Democrats Barack Obama and Hillary Clinton. Their silence following Pace's remarks prompted outrage and demands for answers from gay rights groups. Eventually, both Clinton and Obama came forward with their thoughts on the issue.
Pace's remarks also led to a protest in Times Square by the "ACT UP Army", led by longtime activist Larry Kramer and attended by former New Jersey Governor Jim McGreevey.
It's anybody's guess whether the outgoing General's remarks will inspire the same kind of outrage the second time around.
According to reports, Harkin was stern with Pace after he made his statement: "Pace noted that the U.S. Military Code of Justice prohibits homosexual activity as well as adultery. Harkin said, 'Well, maybe we should change that.'"
Flashback
Gen. Peter Pace Says Military Shouldn't Condone "Immoral" Gays [tr]
General Pace Expresses Regret Over Anti-Gay Comments [tr]