The TV Academy and E! announced today that they would not air remarks made by comedian Kathy Griffin upon her acceptance of an Emmy for Best Reality Program.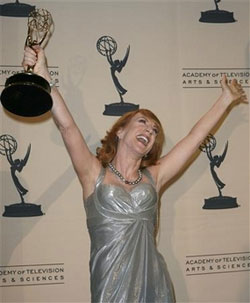 Griffin's remarks were classic Griffin:
"A lot of people come up here and thank Jesus for this award. I want you to know that no one had less to do with this award than Jesus…Suck it, Jesus. This award is my God now."
Following the remark, Catholic League President Bill Donohue called on the TV academy to "denounce Griffin's obscene and blasphemous comment" which he then thanked them for doing.
He still demands Griffin apologize: "The Academy of Television Arts & Sciences reacted responsibly to our criticism of Kathy Griffin's verbal assault on 85 percent of the U.S. population. The ball is now in Griffin's court. The self-described 'complete militant atheist' needs to make a swift and unequivocal apology to Christians. If she does, she will get this issue behind her. If she does not, she will be remembered as a foul-mouthed bigot for the rest of her life."
Congrats to Griffin on the well-deserved win.
You may have missed…
Kathy Griffin on Her Love Affair with Gay Men [tr]
Towleroad Guide to the Tube #139 [tr]
Towleroad Guide to the Tube #121 [tr]
Kathy Griffin on the "N" and "F" Words [tr]