The wind may be out of the Idaho senator's sails once and for all.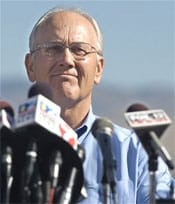 Larry Craig spokesman Dan Whiting told the AP this morning: "The most likely scenario, by far, is that by October there will be a new senator from Idaho."
AP adds: "The only circumstances in which Craig might try to complete his term, Whiting said, would require a prompt overturning of his conviction for disorderly conduct in a men's room at the Minneapolis airport, as well as Senate GOP leaders' agreement to restore Craig's committee leaderships posts taken away this week. Those scenarios are unlikely, Whiting said."
Whiting says the senator remains intent on clearing his name, however.
Meanwhile, Craig supporters are calling for a boycott of the Minneapolis airport.
Craig essentially drops efforts to finish Senate term, aide says [ap via idaho statesman]