Florida Rep. Bob Allen's attorney will reportedly ask a judge to delay his client's trial. The Republican lawmaker was arrested for solicitation in July after offering an undercover police officer $20 for the opportunity to perform oral sex in a public men's room.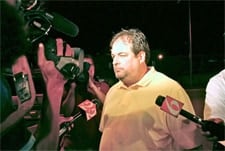 The Orlando Sentinel reports: "…attorney Greg Eisenmenger said he needs more time because prosecutors have failed to provide adequate copies of photographs, audio recordings and other evidence in the case. For instance, Eisenmenger said he had received facsimiles of photos that came out all black and had not been given ample time to question a newly disclosed witness."
Jury selection was scheduled to begin on Wednesday.