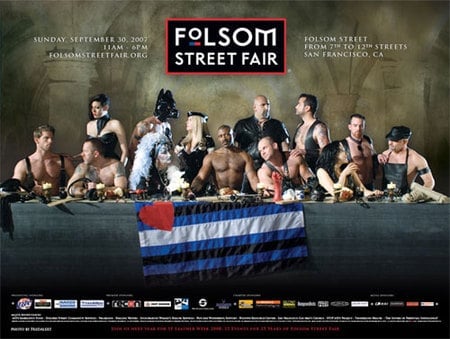 Pressured by right-wing religious groups like the Concerned Women for America who object to the parody of Leonardo da Vinci's "Last Supper" in the Folsom Street Fair's promotional materials, the event's primary sponsor, Miller Brewing, has asked Fair organizers to remove its logo from all promotional materials.
Miller released the following statement: "While Miller has supported the Folsom Street Fair for several years, we take exception to the poster the organizing committee developed this year. We understand some individuals may find the imagery offensive and we have asked the organizers to remove our logo from the poster effective immediately."
A representative from Miller told the Bay Area Reporter that they were not withdrawing their sponsorship, however: "We are and will continue to be supportive [of Folsom Street Fair and the LGBT community]."
Joe.My.God posts a statement from Folsom board of directors president Andy Copper: "There was no intention to be particularly pro-religion or anti-religion with this poster; the image is intended only to be reminiscent of the 'Last Supper' painting. We hope that people will enjoy the artistry for what it is – nothing more or less. Many people choose to speculate on deeper meanings. The irony is that da Vinci was widely considered to be homosexual. In truth, we are going to produce a series of inspired poster images over the next few years," Copper said. "Next year's poster ad may take inspiration from 'American Gothic' by Grant Wood or Edvard Munch's 'The Scream' or even 'The Sound of Music! I guess it wouldn't be the Folsom Street Fair without offending some extreme members of the global community, though."
And Dan Savage over at SLOG has been collecting other parodies of "The Last Supper".
Recently
CWA Not Happy with "Last Supper" Ad for SF Folsom Street Fair [tr]