Provincetown's acting Police Chief Warren Tobias admits that errors were made in the processing of the police report on the anti-gay attack on Richard Hall on September 10, Bay Windows reports: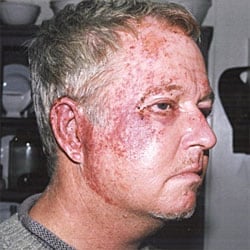 "Tobias said the report, written by Officer Paul Joudrey, should have included the names of the two men who called police to report the assault and who were with Hall when police arrived at the scene. The report also failed to mention whether or not police tried to determine if robbery was a motive in the crime. Hall told Bay Windows that one of the factors that led him to believe the assault was motivated by anti-gay sentiment is that the assailants did not steal his credit cards or the $200 he had in his wallet; the police report makes no mention of whether officers asked him if he had been robbed by the attackers. Tobias said the fact that the assailants did not steal Hall's money may indicate that the attack was a hate crime, but he said investigators are not ruling out other possibilities. 'I don't know the answer to that question about why [information about Hall's money and credit cards] wasn't in the earlier report. … As to whether or not that's an indicator, that's certainly a possibility. … It's also possible that stealing his money might have been the motive, but it might have been interrupted,' said Tobias."
Regarding the two men who called 911 shortly after the assault, there is no explanation as to why they are not in the report: "The report does not give any information about who the two men were, nor does it indicate whether they were questioned by officers at the scene. It states that officers left Hall in their company, at Hall's request, but Hall says he has no memory of the men. 'I believe that that information [the names of the men who called the police] should have been in the report,' said Tobias."
Hall, who suffered cuts, bruises, and abrasions to his face, experienced a period of memory loss after the attack, according to the paper: "He said he remembers that one of them called him a faggot and that he called out a retort in response before being hit on the back of the head. After that he has no memory of the assault or of his interaction with Joudrey, other officers and a rescue squad called to the scene by two men who witnessed Hall emerging from the beach access next to Bubala's restaurant on Commercial Street. Hall's next memory after being hit from behind is of driving back to New Bedford after parting company with Provincetown Police."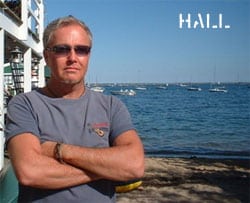 Hall has claimed that police were negligent in leaving him in the company of the two unidentified men, an accusation that police now appear to admit has some merit. According to the police report, the men were not questioned as to whether "they knew Hall or had witnessed any portion of the attack."
Last week, the Cape Cod Times published a report that seemed to refute claims by the Provincetown Police that the last hate crime committed in Provincetown occurred in 2004:
"Off-Cape resident Richard Hall, a gay man, was allegedly assaulted at around 12:45 a.m. on Sept. 10 near Court and Commercial streets after being called a 'faggot.' A second gay man, Daniel Coburn, 42, of East Hartford, Conn., has told police he and others were called 'faggots' by a young man on June 30, also near Court and Commercial streets. The alleged perpetrator also pushed other people, threatened Coburn and threw rocks at others, according to Coburn. In the third incident under police scrutiny, two gay men were allegedly hit with bikes in late August by a group of local youths, Provincetown police Sgt. Carrie Lopes said."
Bay Windows says that Tobias stands by his claim, calling the rock throwing, physical aggression, anti-gay slurs, and bike strikes "incidents" rather than "crimes":
"Tobias said that police are investigating the two other incidents detailed by the Times as hate incidents, not hate crimes. Hate incidents involve reports to police of someone using hateful language but not committing a crime. Tobias said there have been no reported hate crimes in Provincetown since 2004, when a transgender woman was assaulted. He said the perpetrator was convicted of a hate crime assault. To date, Tobias said, there have been eight reported hate incidents in Provincetown in 2007, not all of them LGBT-related. The prior year there were 11 in total."
Since when is throwing rocks at someone not a criminal act, particularly when it is prefaced with a few anti-gay slurs?
Incidentally, a cloture vote on Federal Hate Crimes legislation is scheduled for this morning. "If we win the required 60 votes, then the Senate will proceed to consideration of the Kennedy-Smith hate crimes amendment."
P'town chief admits there are irregularities in police report of assault [bay windows]
Man assaulted in P'town alleges police negligence [bay windows]
Provincetown police investigate possible hate crimes [cape cod times]